Quebec is experiencing a serious labor shortage, the effects of which are being felt in all areas of economic life. Some companies, especially in restaurants, are not shy about hiring 11-year-olds to make up for the lack of staff.
Solutions include better retention of older workers in the labor market, in particular through financial incentives. In Quebec, the cohort aged 55 and over is one of the smallest in the country still in the labor market.
As management researchers, the impact of population aging on human resource management practices is critical to study. Our research team, consisting of Marie-Yves Beauchamp-Lego, Felix Ballesteros, Victor Haynes, Tanya Saba, and myself, conducted a study aimed at studying the management practices of older professionals in the financial services sector. It is facing enormous pressure with the advent of artificial intelligence, digital services, etc.
We conducted approximately one hour interviews with executives from 16 major Quebec financial services organizations located in the Montreal and Quebec regions (National Bank, Desjardins, Sun Life Financial, Industrial Alliance, Intact Insurance, etc.).
Quebec accounts for 20% of Canada's share of GDP in the insurance sector. The four main offices of financial institutions are located in Montreal, and international banks have concentrated their back office activities there. The participants interviewed were managers (human resources, talent acquisition, talent management), vice presidents, a senior branch manager, and a strategic talent consultant.
We relied on the black box model of human resource management.
This model illustrates the links between the processes and intentions of managers when it comes to the adoption of specific management policies in various aspects (HR, marketing, finance, operations), decision making (budgets, personnel policy), which are interpreted individually and collectively by all employees. to influence the organizational climate and organizational outcomes (performance, agility, performance, diversity).
Overall, our results confirm the importance of leadership support when it comes to organizational culture and the implementation of HR practices to retain older financial professionals longer.
Highly variable openness for the elderly
The openness of the managers we met to retaining older professionals varies and can range from a lack of will to a climate of openness to diversity.
At one end of the continuum, employers see no added value in keeping them at work longer, and even worry about the perception of injustice among employees if they are given special treatment. These organizations make little use of practices that encourage older workers to keep working longer. On the contrary, they may even accept programs that encourage them to retire.
At the center of the continuum, many employers manage the requirements of their seniors on a case-by-case basis, based on their position or working conditions and their individual characteristics (knowledge or experience).
At the other end are the most supportive employers, with inclusive organizational cultures and a plethora of senior-led and often all-employee HR practices. These employers strive to develop a culture that is open to diversity in a broad sense, including all employees regardless of their characteristics (age, gender, disability, etc.) As one participant said:
Although the working conditions we offer differ from those offered by our competitors, they remain similar. Our company pays more attention to the working climate and values.
Some employers see attracting and retaining young professionals as a major challenge and complain about the focus on older professionals:
For banks, the challenge is to change our traditional structures and move towards something more flexible. It will not be senior employees who will challenge us, but young ones. I firmly believe that we will not be able to recruit in the future unless we change the way we work. Another participant commented:

We no more need to adjust to baby boomers than we do to a new generation entering the workforce.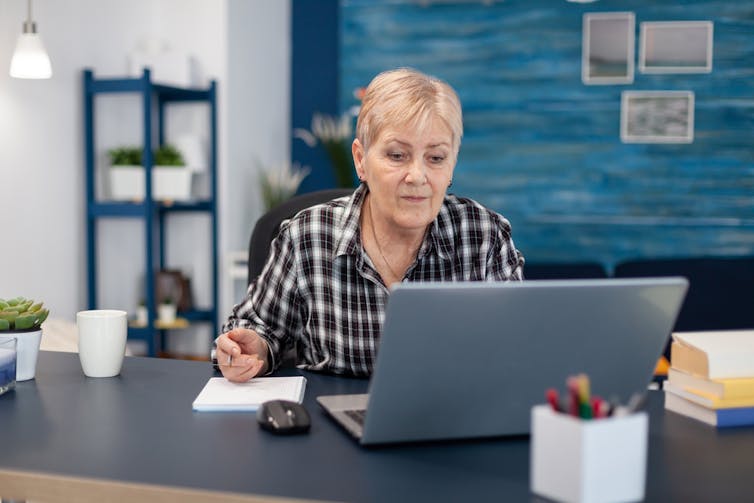 Key HR practices
An atmosphere of openness and support from management are essential to keep older professionals employed. They lead to the adoption of the following key HR practices:
1) Flexibility in time and place of work (flexible working, part-time, remote work), which allow older professionals to gradually retire. This allows the company not to lose them and their knowledge completely:
We need to support people in their quest to achieve work-life balance, meet their demands for part-time work, early start or late exit. We need to be more flexible if we want older professionals to be involved and work.
2) Recruitment and promotion of older professionals and retirees to benefit from their knowledge, experience, reliability and commitment to work. Employers note that older candidates are more likely to stay in their jobs longer than younger employees, who often leave very quickly:
We recently hired a person over 55 years old. In an interview, he said he wanted to work for another ten years. For us, those 10 years can be just as valuable, if not more valuable, than hiring a 30-year-old employee who may leave the company in two years because he is looking for other tasks.
Some employers re-hire their retirees from time to time and on a temporary basis due to their knowledge and experience:
I have a pensioner who helps me with projects. We provide him with a phone and a laptop, which gives him full access.
3) Adjusting the roles and responsibilities of older employees, for example by encouraging them to act as mentors or by reducing their workload, can also motivate them to keep working longer:
We must value their experience and respect their need for autonomy and flexibility. Since they enjoy sharing their knowledge, we need to create opportunities for them to do so.
4) Adjustment of direct compensation, benefits and recognition. Some employers pay retention bonuses to senior key professionals, while others stress the importance of offering competitive pay. Retirees who choose to work part-time or during peak periods should not face negative impacts on their retirement conditions.
5) Succession planning. The rarity of this practice is proving to be problematic as retiring finance professionals may leave clients who have been loyal to their service and company for years:
What worries me is how we can transfer the intelligence, skills and adaptability of the past 25 years to future generations.
The problem of knowledge transfer
Significant technological and structural changes in the financial services industry are forcing employers to compete to attract candidates with recent training in predictive analytics, artificial intelligence, programming, and systems maintenance.
Older professionals do not always have these skills. However, there will always be departments such as sales, service and claims handling that will remain a priority and will require their expertise. As one participant put it:
Their strength is in practical experience. They have incredible networks. These are things they don't teach in school. This is a huge wealth.
Artificial intelligence will not replace the value of human judgment based on knowledge of an organization's history and culture, as well as empathy and ethics. Therefore, it is especially important to inform, raise awareness and educate staff about ageism biases.
It is also important that HR professionals promote the adoption of HR practices that meet older workers' needs for autonomy, relationships, and development. Who knows ? The Covid-19 pandemic may have helped keep older professionals employed by forcing organizations to work remotely. Those working in the financial sector have so far been wary of this arrangement for privacy, data protection, or other reasons. It's not like that anymore.