This week, Café de la Bourse brought The Walt Disney Company under scrutiny. We reviewed the mission and ambitions of the group, the details of its activities and financial performance. We also looked at the technical configuration of the Disney stock price to best prepare for a possible investment. Find our analysis of the Walt Disney title.
The Walt Disney Company: the global entertainment giant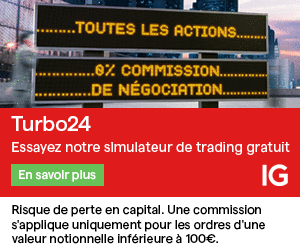 The mission and ambitions of The Walt Disney Company
From its humble beginnings as a cartoon studio in the 1920s to its preeminent name in the entertainment industry today, the Walt Disney Company has established itself as a staple that has left its mark on stories for many generations of family in the United States and throughout the world. World.
Today, The Walt Disney Company, along with its subsidiaries, is a leading diversified international media and family entertainment company. It includes Disney Parks, Experiences and Products, Disney Media & Entertainment Distribution and four content development and production groups – Studios, General Entertainment, Sports and International.
The Walt Disney Company's mission is to entertain, inform and inspire people around the world through powerful storytelling that reflects the iconic brands, creative minds and innovative technologies at its disposal.
Also discover our file How to invest in the stock market in 2022? Our step by step guide
What is the strategy of The Walt Disney Company?
The Walt Disney Company has an overall competitive advantage strategy that exploits the uniqueness of its products in the entertainment, media and amusement park industries.
In 2018, the company began a strategic reorganization along the following lines: a new structure integrates the company's consumer-facing services, technology and international media operations into one global business to capture growth opportunities. In addition, parks and resorts and consumer goods sales have been combined to create a unique new location that combines Disney history and characters.
"We are strategically positioning our business for the future by creating a more efficient global structure to serve consumers around the world, increase growth and maximize shareholder value," said Robert A. Iger, Chairman and CEO of The Walt Disney Company during the reorganization. .
Under this new structure, the new Direct-to-Consumer and International segment will include Disney's international media business and the company's global consumer-facing business, including the Disney+ streaming service, the company's stake in Hulu and its ESPN+ streaming service.
The new Parks, Experiences and Consumer Products segment will be the hub where Disney stories, characters and franchises come to life. Disney's global consumer goods business merges with Walt Disney Parks and Resorts.
Read also our guide How to invest in US stocks
Strengths and weaknesses of The Walt Disney Company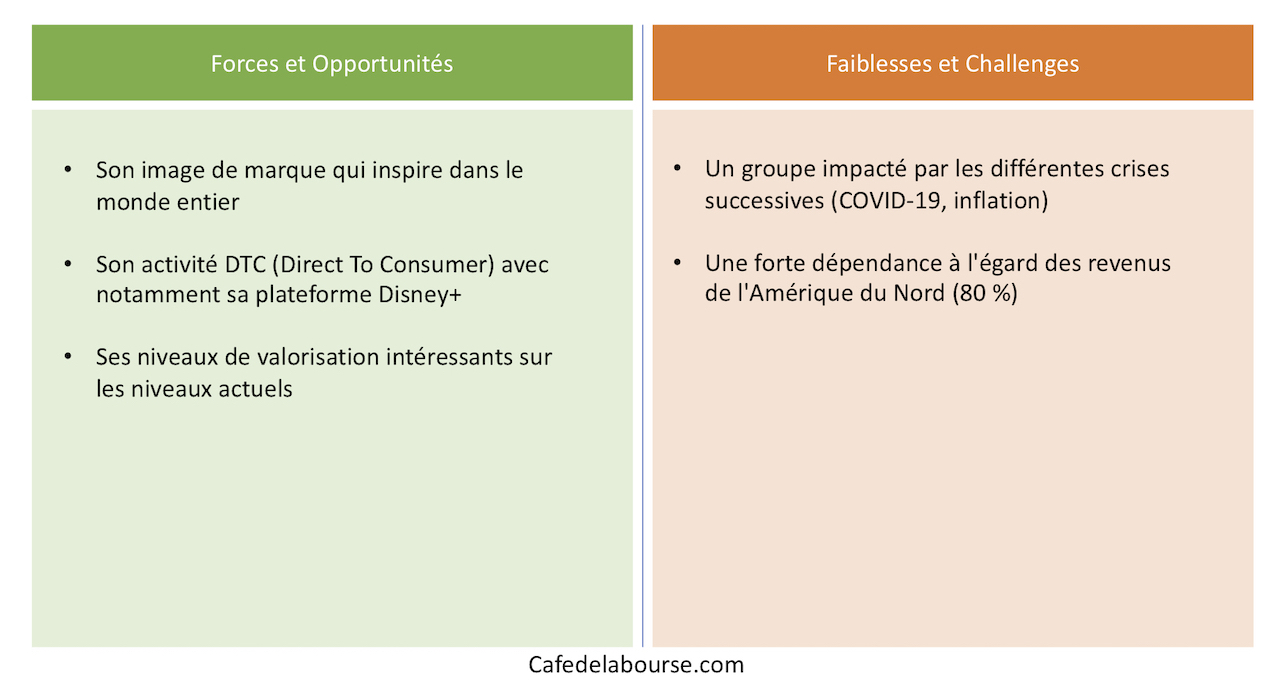 Also see our article Which US stocks to invest in in 2022?
Presentation of the activities of The Walt Disney Company
The Walt Disney Company concentrates its activities in the field of media and entertainment, this is how its turnover is distributed among various activities.
Operation of TV channels and radio stations (39.7% of sales)
The Walt Disney Company primarily owns the ABC television network (8 US-owned channels as of September 2020), ESPN radio network, Disney Channel, Freeform, FX, and National Geographic. The group also produces and distributes television programs, produces video games and operates websites.
Production and distribution of films and streaming video (23.7% of sales)
Production and distribution of films and video streaming accounts for 23.7% of sales, in particular for its flagship product: Disney+. Disney+ is a subscription-based video streaming service with programs from Disney, Pixar, Marvel, Star Wars, and National Geographic. The line-up includes approximately 33,000 episodes and 1,850 films from the company's created and acquired TV and movie library, as well as approximately 75 exclusive series and original films in 2020. Disney+ launched in November 2019 in the United States and four other countries. in other Western European countries in spring 2020
The work of animation studios and art production (13.5% of sales)
The studio produces films under the Walt Disney Pictures, Twentieth Century Studios, Marvel, Lucasfilm, Pixar and Searchlight Pictures brands. In fiscal 2022, Studios plans to release approximately 50 titles, including episodic films and television programs, for distribution to theaters or DTC platforms.
Leisure facilities operation (23.1% of sales)
Disney operates various resorts around the world: seven in the United States (Walt Disney World Resort, Disneyland Resort and Aulani, etc.), two in France (Disneyland Resort Paris), one in Japan (Tokyo Disneyland Resort), one in Hong Kong . (Hong Kong Disneyland) and another in China (Shanghai Disneyland). The group also sells cruises (Disney Cruise Line), travel arrangements (Disney Vacation Club and Adventures By Disney), design and develop parks and other real estate, and sell consumer products (children's books). , toys, game software, movies, etc.).
Distribution of sales around the world
Net sales are broken down geographically as follows: US and Canada (79.5%), Europe (11.2%) and Asia/Pacific (9.3%).
Also check out our guide Investing in the stock market with a securities account
Fundamental analysis of The Walt Disney Company
Disney results for the first half of 2022
The Walt Disney Company reported mixed results for the second quarter of 2022, which admittedly far beat analysts' earnings forecasts but fell short of earnings estimates. The entertainment giant increased its total revenue by 23.3% year on year. at $19.2 billion. and adjusted earnings per share (EPS) jumped 36.7% to $1.08.
A segment of Disney Media and Entertainment Distribution that represents 71% sales in the second quarter increased by 9.5% reach $13.6 billion. The Disney Parks, Experiences and Merchandise category grew by 110% reach $6.7 billionthanks to a decrease in concerns related to COVID compared to the previous year.
The company's operating margin increased by 343 basis points reach 19.2%resulting in an operating profit of $3.7 billion. The net result is $1.57 billion above 72% compared to the previous half year.
While one of its main competitors, Netflix, is facing growth challenges, The Walt Disney Company continues to make headway on the streaming front. Now with more than 205 million subscribers distributed between Disney+, ESPN+ and Hulu, the company is on track to become the new king of streaming. In the second quarter, Disney+ subscribers increased by 32.9% reach 137.7 million and CEO Bob Chapek said the company is still on track to achieve 230 to 260 million subscribers by fiscal year 2024.
Right now, amid the general market downturn we're experiencing, Disney stock is trading at 20x its expected earnings in 2023. The entertainment company's valuation also looks very reasonable if earnings per share estimates are implemented.
Also check out our article 8 financial ratios you need to know to invest in the stock market.
The Walt Disney Company Technical Analysis
Graphical analysis of the Walt Disney stock price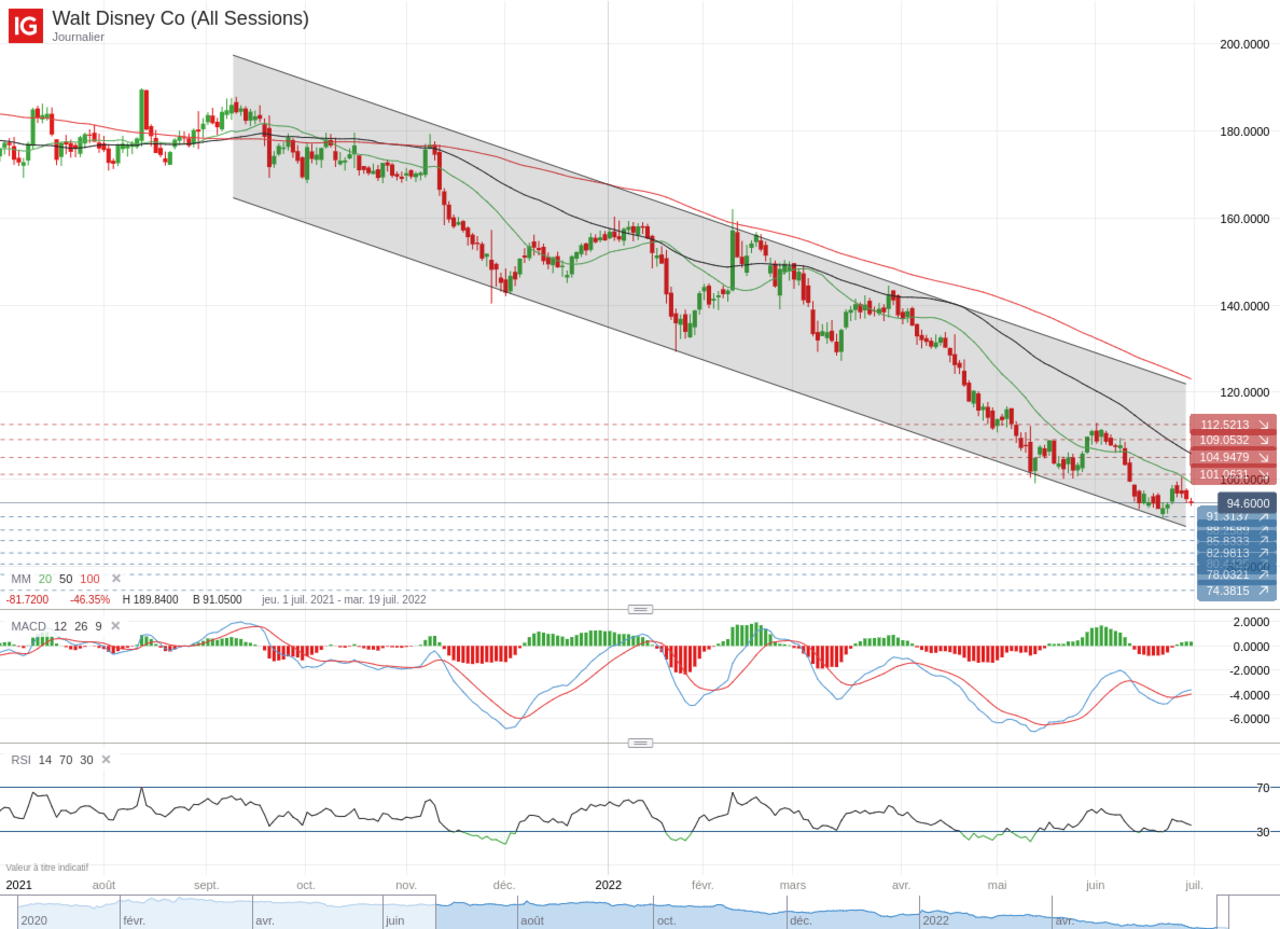 Source: Café de la Bourse, chart plotted on IG, data for information only.
Disney stock technical analysis
Over the past 12 months, Disney stock has followed a downtrend marked by a sloping channel (black on the chart), the lower limit of which has been tested several times over the past few months. Disney stock price falls 45%.
The mid-term trend of Disney stock is clearly bearish, with the 20-day moving average (green on the chart) below the 50-day moving average (black on the chart) and below the 100-day moving average (red on the chart).
In the short term, Disney shares are in a downtrend, MACD is in negative territory at the signal line. The stochastic RSI is in the neutral zone, so the stock is neither overbought nor oversold.
Read also our article Graphical and technical analysis: how to use it in the stock market
Our opinion on the Disney promotion
As a long-term investor, short-term headwinds from inflation, interest rates, and a possible recession have caused a big sell-off in Disney stock and appear to have provided investors with an interesting entry point. Overall, Disney's performance in the second quarter was strong, with theme parks rebounding and streaming services continuing to grow at a rapid pace. Given the declining valuation, strong financials and unprecedented brand awareness around the world, The Walt Disney Company is a good bet to move forward.
Read also our guide How to become a stock trader
Disney Turbo Scholarship
To trade Disney stock, please contact your stockbroker. For example, you can use a derivative product such as a Turbo Call or Turbo Put to take advantage of up and down swings in Disney stock.

Image source: pxhere.com
All of our information is generic in nature. They do not take into account your personal situation and in no way constitute personal recommendations for the purpose of conducting transactions and cannot be equated with a financial investment advisory service or any incentive to buy or sell financial instruments. The reader is solely responsible for using the information provided without any claims against the publishing company Cafedlabourse.com. Cafedlabourse.com's publisher's liability can in no way be held liable for error, omission or improper investment.
Any trading activity involves risk. The service of executing orders through a limited risk account carries the risk of losing the invested capital.
Turbos are complex financial instruments with the risk of capital loss. Losses can be very fast.