The Fed is no longer aiming for a neutral monetary policy, as it did a few months ago, but openly restrictive policies to ease domestic demand, credit, and ultimately prices. At first glance, this increases the risk of a recession. Most of our models currently say nothing about this risk, but two of them are already on high alert (oil, stock market). There are few signs of weakening in the labor market, but it is doubtful that this will last for long, as the economy suffers from a protracted energy crisis, aggressive monetary tightening and a slowdown in the construction sector.
US Focus Bruno Cavalier, Chief Economist, and Fabien Bossy, Economist
A wise man once said that divination is a difficult art, especially in relation to the future. When analyzing economic cycles, it is precisely the forecast of the present itself that is difficult. First, a recession is an intermittent phenomenon. Of course, there are necessary conditions that we know how to determine, as a rule, an excess of expenses financed by a loan, but the initiating element can arise suddenly. The transition from a growth phase to a recession phase is a non-linear process. Second, near loop inflection points, the data is often mixed up, neither all good nor all bad, resulting in false signals. That's why the committee in charge of officially dating US cycles has been slow to give its opinion, even if it means declaring a recession when it's already over. It may be tempting to choose numbers to confirm the previous view. Thus, the vast majority of Americans say the economy is already in recession on the basis that inflation is at its highest level in four decades (see Focus-US June 10: "American cognitive dissonance). Of course, it is possible that an inflationary shock reduces real incomes enough to destroy demand, increase unemployment and eventually lead to a recession, but this is not the current situation.
To avoid this confirmation bias, we updated a large panel of models estimating the probability of a recession in the US economy without attempting to rank them. Distinguish between coinciding and advanced models. The former are built with variables that historically correlate well in real time with the business cycle. The second refers to the twelve-month horizon.

In the matching model group, the first uses the unemployment rate as an explanatory variable. Indeed, it is no exception that a recession began when the unemployment rate rose by at least half a point for three consecutive months. To date, unemployment in the United States is still on a downward trend. In the second, we look at the change in weekly jobless claims, a variable that is more volatile than unemployment but better able to immediately reflect changes in the labor market. We then study the signal coming from the stock market (the S&P500 index) – with the caveat that the stock market always reverses just before a recession, but also sends quite a few false signals. Finally, we note the evolution of building permits as the residential real estate sector tends to react to changes in interest rates. In mid-2022, of these four models, only the stock market model is giving a strong negative signal with a 62% chance of a recession.
We then look at five patterns that give early signals of change in the real economy. The latest available data allows us to estimate the likelihood of a recession by mid-2023. The first is the canonical interest rate spread model, measured here by the difference between the yield on 3-month Treasury bills and 10-year bonds. This spread is close to 180bp, which is far from an inversion of the curve (other possible configurations give a more negative signal, such as a 2-10 year rate spread). Another model examines whether the decline in activity data is diffuse or sectoral. A typical decline concerns the entire territory, most industries and economic entities. Our other three models take as their explanatory variable, respectively, the evolution of company credit premiums, oil prices, and company profitability, measured here by national accounts. Here, the only really negative signal at this stage comes from the oil market, which gives the probability of a recession well above 50%.
Here are the results. How to interpret them? The summary view can lead to a reassuring observation, since the vast majority of models do not send a warning signal. We tend to read darker. As mentioned above, there are non-linearities. In our claims model, there is little chance of a recession (6% in June), but if their levels had remained the same in July, we would suddenly have risen to over 90%, because this would confirm that we have changed the phase, moving from a declining requirements regime to an increasing demand regime.
Moreover, the three most common factors causing a recession are present at the same time, and all of them are likely to worsen in the short term, namely the energy crisis, monetary tightening and instability in the real estate sector.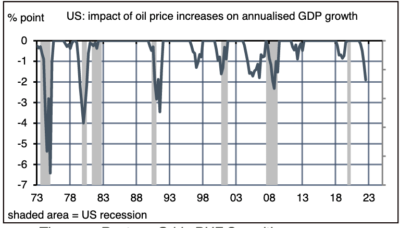 The increase in oil prices is so large that it could cut real GDP growth by two points year-on-year in the second half of 2022, never before seen outside of a recession (schedule). The shock is not as strong as in the 1970s or during the Gulf War, but this time there has been added tension over the price of gas. This exacerbates the energy shock.
Moreover, the Fed's restrictive stance continues to deepen, as evidenced by the latest FOMC decision (see page 3). The current bond crash is not as large as in 1994, but is still very strong.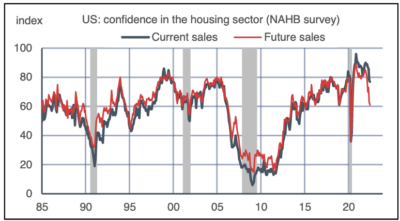 Finally, the real estate sector can no longer support the trends that emerged from the boom that began at the end of the pandemic. From now on, under the combined effect of rising house prices (about +20% per year) and mortgage rates, the monthly payment on the average loan jumped by 50% in one year, which is unheard of since the 1980s. promoters, sales prospects are in free fall (schedule). Unlike a mortgage bubble, households are not over-indebted and appear to be immune from the financial cleansing phase, but activity in the sector will continue to decline, with negative macroeconomic implications.
The US economy is emerging from an atypical crisis. We must never forget this point when we compare the present cycle with the cycles of the past. The pandemic and now the energy crisis show that investment is needed to overcome supply constraints. If credit does not suddenly dry up, this may mitigate the impact of the demand correction, but will not reverse it.
Economy
CPI report May was such a shock that the Fed decided to raise the rate by 75 basis points (see below). Everyone expected the inflation rate to remain high, but not set a new record this cycle of 8.6% for the year. Energy prices recovered (+3.9% m/m) – expect much worse in June as gasoline prices continued to rise. Pressure on food prices intensified, again with no hope of easing quickly. Perhaps more serious in the eyes of the Fed is that the growth in benchmark prices is not slowing down, amounting to +0.6% in May against 0.5% m/m YtD. Prices for some services rise for one-time reasons (vacation, travel), others reflect more permanent factors (actual and imputed rents, which account for almost a third of the CPI). Inflationary shock affects the morale of households. AT June, according to a preliminary assessment of the University of Michigan survey, consumer confidence fell again (-8 points), strengthening the fall that began in the spring of 2021 (-38 points in total). This index is at an all-time low, even lower than during the Volcker recession of the early 1980s. As time passes and inflationary pressures remain strong, households are revising their inflation expectations upward, not just in the short term ( + 5.4% for one year). year), but also in the medium term (+3.3% over 5-10 years). This result may also have played a role in the Fed's decision to step up its monetary response.
As a logical consequence, household consumption is declining, but it is not stopping at this stage. AT May, retail sales fell 0.3% m/m. Partly to blame for this is the decline in car sales, which has continued for three months in a row. The core sales index (control group), which excludes some volatile elements, was also weak, barely stable, while it has been revised downwards over the past few months. We remind you that retail sales have a strong price effect. Adjusting for this effect, consumption of goods will decline by more than 2% qoq y/y in 2 sq. 2022 according to the Atlanta Fed. Spending on services, twice as high as spending on goods, nevertheless continued to grow in volume at a good pace (+5.3% qoq). In short, the Atlanta Fed describes a curious situation where domestic demand remains stable, but real GDP growth is constrained by the negative contribution of foreign trade and inventories. Already in the first quarter of 2022, final domestic demand increased by about 3% year on year, while real GDP fell by 1.5%.
In terms of business ethics, the recent trend is downward, but with strong differences across sectors. In housing construction, which is not surprising, given the growth in rates, the correction is very noticeable. The NAHB index fell 2 points in June, 17 points for six months. Several regional manufacturing indices are holding up better (NY Empire recovery, Philadelphia Fed weakening in June) and signaling less supply chain disruption.
Monetary and fiscal policy
The Fed telegraphed the markets a 50 basis point rate hike. During the weekend Jerome Powell switched to the +75 bp option, and let food watcher Wall Street Journal in which it was published June 13 which leads to a misrepresentation of expectations. Therefore, the FOMC decision did not surprise anyone. Fun note: The only vote against +50 basis points came from Esther Georges (Kansas City), who is considered the most hawkish of all FOMC members. For the July meeting, Mr. Powell has not yet decided between +50 and +75 bp.
Continued this week
Jerome Powell to appear before Senate committees 22) and Dom ( 23) submit a semi-annual report on monetary policy. Statistically, there will be June PMI polls (first 23) and data on the real estate sector (sales of existing houses on 21 and new houses 24).