Investors who are the first to adopt digital assets are true passive investors.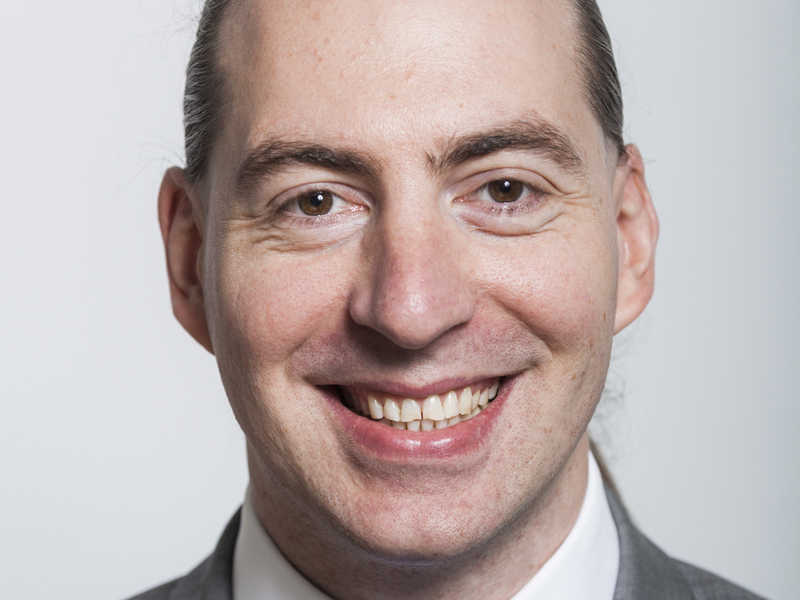 At the very least, you might think this question is worth asking if you've read about the recent digital asset price crash. Such a question requires a binary answer: as if the only options available were blind trust or total distrust. However, there is a much more pressing issue, but it requires a more subtle approach.
The opposite of this binary question is the recent discussion of current capital losses and recession risk, which have never been expressed in binary terms. There is no talk of selling 100% of the shares. In their forecasts or management comments, asset managers draw attention to the undervaluation of stocks, the rotation of cyclical stocks in favor of defensive stocks, the priority given to high-quality companies. So many nuances and carefully crafted strategies that allow the investor to understand the situation and its many uncertainties.
Investing in digital assets or other assets has nothing to do with Shakespeare's play. Investors never trade in absolute terms. It's all about scenarios and probabilities.
Why should it be different for investing in digital assets? Why shouldn't investors take the same subtle approach to their investments in digital assets? Whether an investor uses a market portfolio approach, applying a 1 percent weighting of digital assets across all asset classes, or whether an investor uses a longer-term approach to capitalize on the impact of digital assets on the Sharpe ratio, there are many ways to achieve an allocation that balances the risks and opportunities of this emerging asset class.
Investing 1% in digital assets: is it a rational choice?
Not investing in digital assets is actually an active management decision. This may reflect the belief that the digital asset segment will one day completely disappear. This opinion may be ambitious. Indeed, the market capitalization of digital assets reached $3 trillion in November 2021. Despite the current correction, the ecosystem and the number of use cases have been growing steadily for over a decade. The size of digital assets remains the same as that of small-cap companies in emerging markets, listed real estate investment funds (REITs), or global high-yield bonds — assets that are part of most asset allocations and market wallets.
Chart 1 shows the current market portfolio, i.e. the various listed assets available to investors, weighted by their total market capitalization. The total market is around $160 trillion after the recent drop in risky assets, with digital assets accounting for about 1% of that volume. To minimize this deviation from the hypothetical market portfolio, a passive or uninformed investor should theoretically invest about 1% in digital assets. This is a rational choice in the absence of additional opinions or information. This is a safe position that allows the investor to benefit from the continued growth of the sector in positive scenarios and allows him to limit losses (at 1%) in more negative scenarios.
Chart 1: Current Market Portfolio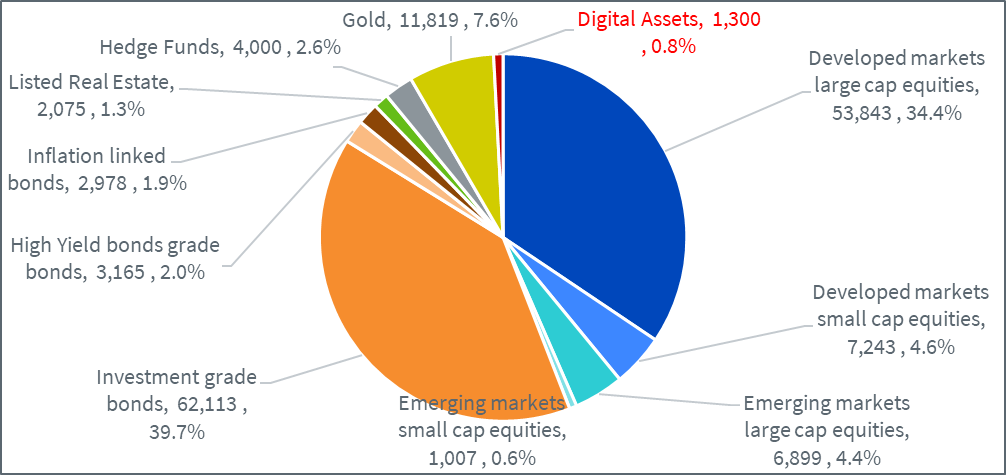 Source: Bloomberg, Tree of Wisdom. As of May 31, 2022, market capitalization is in billions of dollars. It is not possible to invest directly in the index.
Why is 6% growth per year enough to justify investing in digital assets?
When it comes to investing in digital assets, the biggest hurdle for an investor is usually volatility and risk of loss. However, these concerns tend to ignore two important facts:
Regardless of the volatility of digital assets, if an investor only invests 1% in digital assets, their maximum loss is 1%. Within a multi-asset portfolio, losses of 1% occur many times a month in segments of stocks or other risky assets.
The performance required to justify volatility similar to that of digital assets is not as high as investors think. Digital assets growing at more than 6% per year would be enough to justify investing in a hypothetical portfolio.
In a recently published taxonomy article, WisdomTree Insights – A New Asset Class: Investing in the Digital Asset Ecosystem, we use several allocation methods to find the right return/risk profile to offer to a long-term digital asset investor. As an example, Chart 2 shows the difference between the Sharpe ratio for a portfolio with 1% invested in digital assets and a portfolio without digital assets. The illustrated portfolio constantly invests up to:
59% in the MSCI All Country World Index
40% in Bloomberg EUR Agg Index
and 1% in digital assets
Stock and bond returns and risk are assessed using JP Morgan Asset Management's 2022 Long-Term Capital Market Assumptions (LTCMA) to assess performance, volatility and correlation over the next ten years. The historical correlation of digital assets with stocks and bonds is used. We vary the annual performance and volatility of digital assets from 0 to 100% to explore their impact on the illustrated portfolio.
Chart 2: The future volatility and performance of digital assets must vary widely for a multi-asset portfolio not to benefit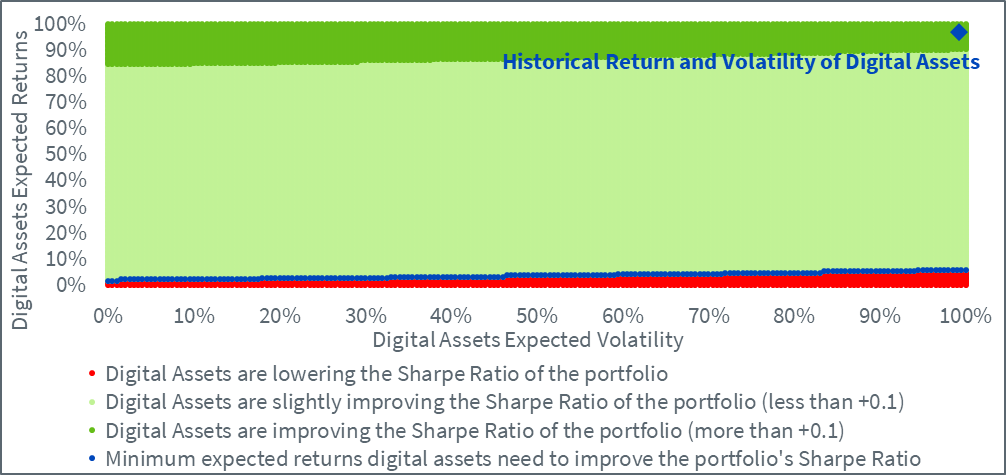 Source: Bloomberg, Tree of Wisdom. From December 31, 2014 to May 31, 2022 Calculated in EUR based on monthly performance. It is not possible to invest directly in the index. Historical results are not indicative of future results and any investment can go up or down. For illustrative purposes only
It is clear that for most levels of volatility and performance of digital assets, the Sharpe ratio of a portfolio benefits from their integration into the portfolio (highlighted in green in Figure 2). Digital assets have been generating 99.2% annual returns with 97% volatility for the past seven years or so. While it is doubtful whether digital assets will be able to perform the same over the next 10 years, assuming volatility remains the same (99%), the Sharpe ratio of a 60/40 portfolio is improved by the inclusion of digital assets, provided they record a performance of at least 6 % in year.
Faced with this analysis, investors may end up arguing that it is too late to invest in digital assets and that this exponential growth is a thing of the past. However, in terms of asset allocation, this is not so obvious. Looking at Chart 2, instead of asking the Shakespearean question "to invest or not to invest in digital assets, that is the question", the only relevant question is: will digital stocks rise more than 6% or 7% in the future?
If you think the answer is yes, then they deserve to be included in your asset allocation.