Trumpet from bloomberg was not broken: STMicroelectronics and founder GlobalFoundries signed a memorandum of understanding on the creation in France of a new production of semiconductors on 300-mm wafers. The planned investment of several billion euros will receive significant financial support from the French state.
This joint venture will be located adjacent to ST's existing 300 mm pipe plant in Kroll. This new facility is due to reach full capacity by 2026 and produce up to 620,000 300 mm wafers per year. About 42% of the capacity will be allocated to ST and 58% to Globalfoundries.
The announcement is part of the "Choose France" summit, designed to boost France's attractiveness, to be held this afternoon in Versailles in the presence of Emmanuel Macron. This will be the most important of the investment projects to be made public (the economic press mentions 4 billion out of a total of 6.7 billion euros). It is also part of the European Chip Act.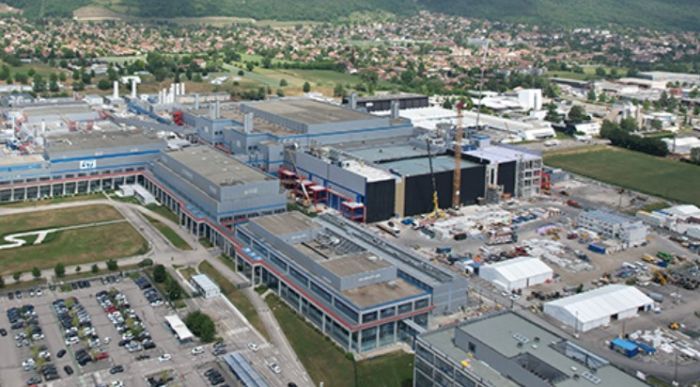 ST and GF are committed to increasing their production capacity to serve their customers in Europe and around the world. This new division will produce a wide range of technologies, including technologies based on FD-SOI (Fully depleted silicon on insulator – fully depleted silicon on the insulator), and its variants. This includes the smelter's FDX technology, as well as the full range of technologies from the ST roadmap all the way up to the 18nm node, to meet automotive, IoT, and mobile demand over the next few decades. Volkswagen, Qualcomm, Valeo and Mediatek, customers of the founder of FD-SOI technology, welcome the announcement.
FD-SOI technology was born in Grenoble. From the very beginning, it has been part of the product and technology roadmap for ST's Kroll plant. Subsequently, it was provided with differentiations for sale and production at the GF production plant in Dresden (Germany). FD-SOI technology features ultra-low power consumption and simplified integration of additional features such as radio frequency (RF), millimeter wave (mmWave) communications and security.
ST and GF will receive significant financial support from the French state for this new production unit. Its amount is not specified. This is part of the goals of the European Chip Law plan, one of the goals of which is to bring the production capacity of Europe to 20% of the world's capacity by 2030. This major investment over several years aims not only to produce semiconductors in technology in Europe, but also to support the leadership and sustainability of European technology ecosystems, R&D (with the recently announced R&D collaboration between ST, GF, CEA-Leti and Soitec – cm. article) to high-volume production, thereby meeting European and global customer demand for additional capabilities in complex and advanced technologies to serve key end markets such as automotive, industrial, IoT and communications infrastructure. Jobs will be created at ST's Kroll site (the new manufacturing unit will require approximately 1,000 additional jobs) and its ecosystem of partners, suppliers and other stakeholders.
" This new manufacturing unit will support our revenue ambitions of $20 billion or more. Cooperation with GF will allow us to work faster, lower the risk threshold and strengthen the European FD-SOI ecosystem. We will be better positioned to meet the needs of our European and global customers as they move towards digitalization and decarbonization. ", said Jean-Marc CheryChairman of the Board and CEO of STMicroelectronics.
" ST is currently transforming its production tool. We are already in an unbeatable position with our 300mm wafer plant in Kroll, which will be further strengthened with today's announcement. We are also continuing to invest in our new 300mm wafer plant in Agrate, near Milan, Italy, which will be up and running in the first half of 2023 and should reach full capacity by the end of 2025, as well as our integrated production. silicon carbide and gallium nitride products ", continues the presenter.
" Our customers need broad access to the power of 22FDX technology, especially in the automotive and industrial sectors. The new manufacturing unit will include a GF foundry dedicated to our customers, who will thus have access to unique GF innovations and be managed by the GF team present on site. This new joint capacity expansion builds on ST Crolles' current plant infrastructure, allowing GF to accelerate its growth by capitalizing on economies of scale to provide additional capacity with a high return on investment on our differentiated 22FDX platform, which ships over a billion chips. With today's announcement, we expand GF's presence in Europe's dynamic technology ecosystem and strengthen our position as Europe's leading semiconductor manufacturer. said Thomas Caulfield, CEO of GF. " Our global footprint allows GF not only to meet its customers' capacity needs, but also to secure their supply chain. These investments, made in partnership with the French government, together with long-term agreements with our clients, create the right business model for GF's investment. ", he adds.
Watch the presentation of the Globalfoundries project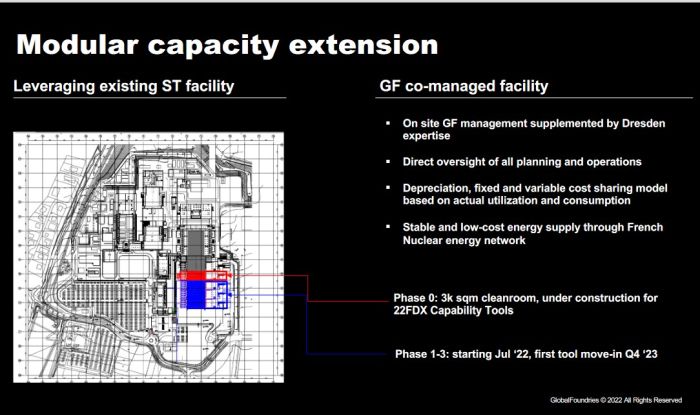 Similar products