Inflation and rising rates have had a strong impact on the markets in terms of performance since the start of this 2022. Within the allocation, it is important to consider the context of risk premiums.
Alexander Rio, Business Development Manager, Overlay & Customized Portfolio Solutions
Stock market risk premium
This time we will focus on the US market, which has been hit the hardest by the Fed's interest rate hike and monetary policy. It's important to note that when we analyze the S&P500 and its EPS risk premium, we notice that its negative performance this year and its revaluation is due almost entirely to rising rates.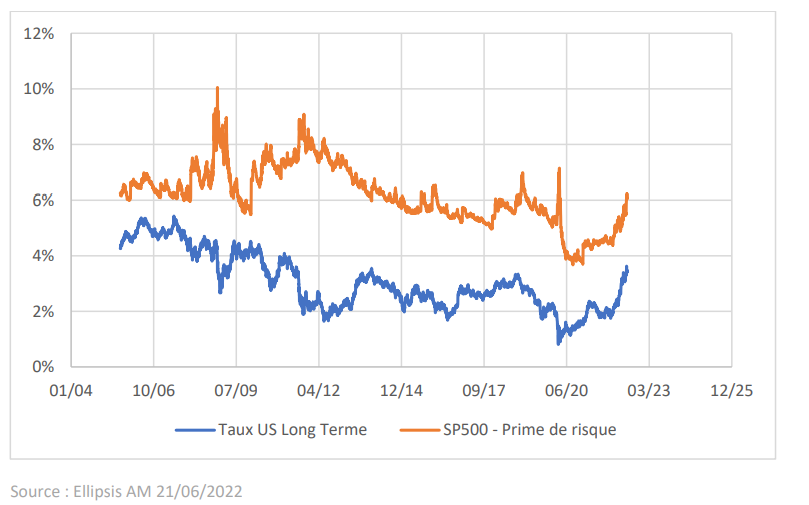 So, as we can see in the chart below, despite the S&P 500 dropping more than 20% in 2022, the gap between equity risk premium and rates remains tight at 2.5% for the time being. This level remains at its lowest level in over 10 years and has yet to experience a revaluation similar to what we experienced during periods of stress such as in 2020, 2015 or even 2018 during the last EDF decline.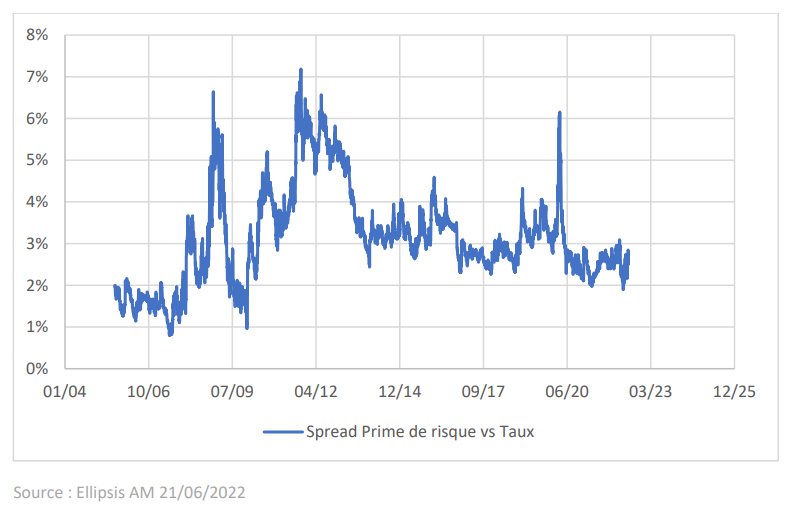 Risk premium based on strong growth expectations
The equity market risk premium is by definition based on expected performance compared to the market price. Following on from previous research, it's worth taking a moment to review these earnings projections to assess whether this level of compressed risk premium seems logical or not.
Therefore, analysts expect results to rise by 18% in 2022 and then by 9% in 2023. It is worth forgetting about the Covid period and comparing these forecasts with 2019 to reveal the expected year-on-year growth. Thus, the current risk premium implies 12/13% earnings growth over the next few years. Thus, the equity risk premium would be even higher if 0% 1% 2% 3% 4% 5% 6% 7% 8% It was; for example, the 2023 result, which will remain neutral compared to 2021, will give an equity risk premium to rates no longer at 2.5%, but at 1.3%.
Equity risk premium versus credit risk premium
After analyzing the equity risk premium, which at present may seem excessive to us, it should be compared with other risk premiums in order to place it in a more general context. So, when we look at the adjusted spread of investment grade and high yield index options in the US market, we get the following chart: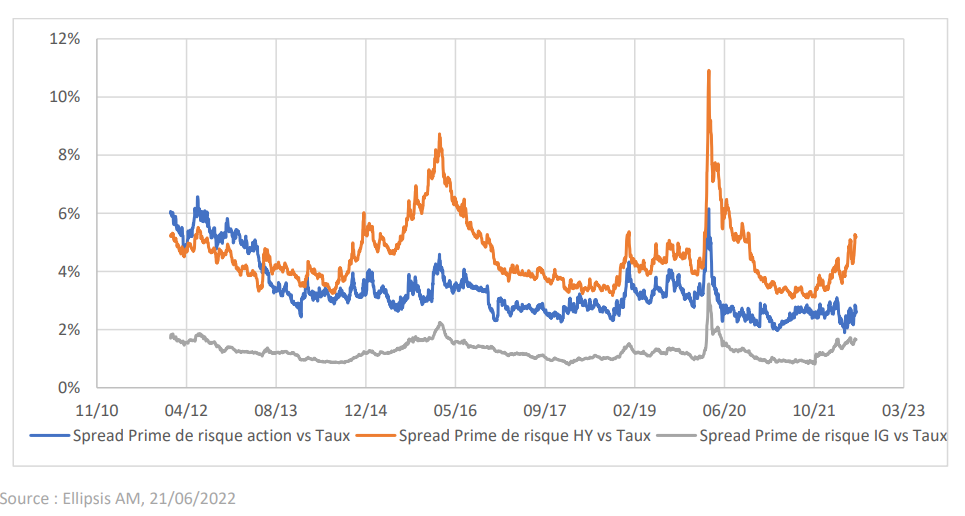 As we can see here, the credit markets are re-evaluating both investment-grade and high-yield. Essentially, stocks are a real asset with attractive inflation-indexed results, and this difference in response can be justified. However, the risk of a recession or global deleveraging associated with increased risk (risk asset volatility) will need to be avoided. After doing a more precise analysis, based in particular on investment grade, we see here that the equity risk premium could be revalued upwards by 1%. In this case, given that the S&P500 index is currently at 3750 points, a repricing of the risk premium of 1% would result in a -15% drop in the index.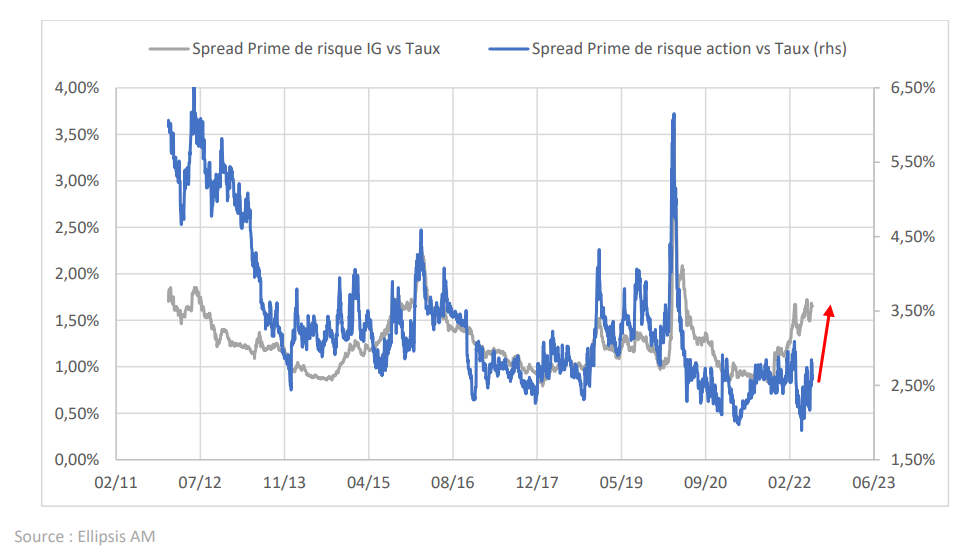 Examining non-mandatory bonuses and related income
An easy way to get a fixed income thanks to the stock market, and thus get a product similar to a loan, is to use the options market. Based on this strategy, many structured products are created, sellers of protection from the fall of the market. Here we are simply looking at the level of annual put option that must be sold on the S&P500 to earn a return similar to an investment grade investment. It is appropriate to sell the level at -37% now to get a return of 1.7%, similar to the investment level. Historically, this level seems far away compared to what we could have. However, this must be placed in context, following what we described earlier. Indeed, if the equity risk premium approached the credit risk premium, the equity market would be 15% lower. Thus, the sold option will no longer be -37%, but -22%, which historically seems to be very close. Such a repricing, if it occurred, would only involve a risk premium. The fall in expected results and their strong rise would also cause a sharp revaluation of the index and bring the level of this sellable build offer closer.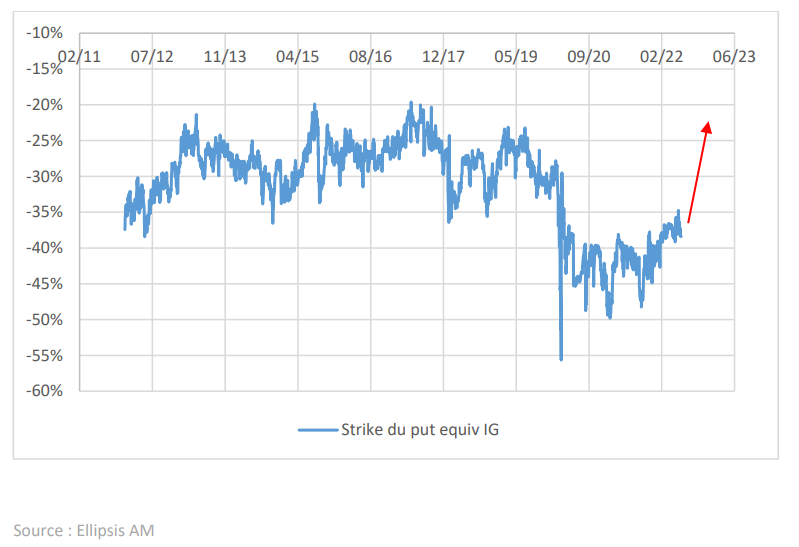 Conclusion
Thus, this analysis highlights the fact that the equity market currently does not seem to expect earnings growth to decline, or even to reprice the risk premium associated with the simple exchange of flows between different asset classes. On the other hand, hedging flows have affected option premiums, which have offset high stock market values ​​and may now appear more attractive than credit risk premiums. However, we must not forget about the risk associated with the possible revaluation of shares in these derivatives.
Therefore, today it seems more interesting to promote the fixed income of credit assets (investment grade or high yield) that have already been subjected to the negative effect of the risk premium, and limit the risk of revaluation of stock markets by maintaining hedges. faster than we imagine, especially when we see the high realized volatility of the stock markets today.
Show disclaimer

---
Warning : This commercial document is not investment advice or a recommendation to buy or sell financial products. Investors who plan to subscribe to UCI units or shares are advised not to base their decision solely on the elements contained in this document and to carefully read the most recent version of the prospectus and in particular the risk profile. The UCI and KIID prospectuses are available upon request from the management company or from the website: www.ellipsis-am.com. The distribution and offering of UCI shares or units may be restricted or prohibited by law in some jurisdictions. The UCI may not be signed or owned by an unauthorized person or unauthorized intermediary (see the Eligible Subscribers section of the prospectus). Before any subscription, you should check in which countries the UCIs mentioned in this document are registered.
Disclaimer related to overlay solutions: its purpose is to reduce the risks of a particular portfolio without completely eliminating them, and is not intended to offer any guarantee or protection for a portfolio that therefore remains at risk of capital loss. This decision is also more subject to model risk associated with the implementation of the main goal of risk reduction, which is based on a systematic principle. There is a risk that this model will be ineffective. Finally, in addition to the specific risks associated with the existing portfolio, this decision exposes the risk associated with the use of forward financial instruments, as well as operational risk. Due to the presence of hedging, potential returns may be lower due to the impact of hedging costs and the fact that the portfolio may only partially participate in growth in the event of a market recovery.
ELLIPSIS AM – 112 avenue Kleber – 75116 Paris – A Portfolio Management Company approved by AMF under number GP-11000014 – SA with a Management Board and Supervisory Board with a share capital of EUR 2,307,300 – RCS Paris 504 868 738.
---