"Paper stone", which refers to the instruments for investing in real estate in the form of shares, is increasingly appreciated by French investors. Needless to say, this allows access to still attractive real estate yields without management's worries associated with buying real estate outright. SCPI (Civil Real Estate Investment Company) is the most famous paper stone tool and offers many benefits, but SCIs also have many benefits. How to make the right choice?
Is it interesting to buy SCPI in life insurance?
SCPIs have many benefits. But they still have two main drawbacks: taxation and fees.
Property income is especially taxed in France, in income tax, as well as social security contributions in the amount of 17.2%.
It should be noted that, in terms of taxation, one can benefit from lower taxation by buying shares in a CCI (Real Estate Civil Investment Company) that invests in real estate abroad. This type of SCPI is not subject to 17.2% social security contributions and is subject to an IR rate that is often lower than in France.
Management fee is deducted from income and Rates displayed by SCPI Yield Indices are net of management fees. So they are kind of "painless" for the investor.
On the contrary, if revenues shown also net of subscription fees (an investor who buys €100 in SCPI, who then pays 4% minus management fees and social security contributions, will receive €4 in dividends), these costs are not painless when reselling SCPI shares…
The subscription price is usually between 8 and 12%. Specifically, if you buy a SCPI share for 100 euros and want to resell it in a few months, you will receive about 90 euros (if the share price has not been revalued in the meantime). Therefore, it takes several years of distributions (and, ideally, several increases in the share price) for the investment to become truly profitable.
Paying high fees for investing in real estate is not all that surprising. When you make a real estate investment directly, you pay notary fees (8%) as well as agency fees that range from 4 to 5%. For example, with a total investment of 100,000 euros, the value of the property is actually only 87 or 88,000 euros.
However, the investor is extremely interested in finding solutions to limit the cost of a subscription to SCPI, as well as to limit taxation. Exactly, he it is possible to integrate SCPI into life insurance.
When they're filed in life insurance, SCPI Benefit From Attractive Envelope Taxation : only withdrawals are subject to IR, TMI or a flat tax of your choice and you can enjoy tax benefits if the contract is longer than 8 years: €4,600 rebate on earnings (€9,200 per couple) and a reduced rate of 7.5% on less than 150,000 euros (300,000 euros per couple).
In addition, insurers often offer SCPI subscription fee discounts. Usually about 10% for a direct purchase, for example, they are discounted about 7% on the best contracts with an investment rate.
On the other hand, within a life insurance contract, SCPI units are units of account. So the insurance company will charge a management fee, which materialize on the number of shares held and, therefore, reduce the amount of investment (with the exception of revaluation). Therefore, it is necessary to choose a contract with a low commission for the management of units of account. Another point of vigilance: some insurers withhold a portion of the profits distributed by SCPI, typically 15%, the maximum allowed by the insurance code. In the case of a 4% SCPI, the insurer charges 0.6%, leaving only 3.4% to the contributor… excluding contract management fees.
It is necessary to give preference to life insurance contracts under which 100% yield of SCPI is paid., such as Liberty Life's best bet policy. For several years now Meilleurtaux Liberté Vie has received industry press awards and is considered the best or one of the best contracts on the market for investment in SCPI. Among the qualities that are most often called:
Payment of 100% of the rent received from SCPI to the fund in euros. This allows you to earn rental income initially, and the subscriber can later participate in arbitration using free online arbitration.
Actual ownership of shares from the 1st day of the month following the payment, for comparison with the use periods of several months established under direct investment.
The management fee under the contract is only 0.5%.
A wide selection of SCPIs is available, with some of the best props on the market such as PF Grand Paris, ActivImmo, Epargne Foncière, Epargne Pierre and Immorente. So many SCPIs on our 2022 list.
Our ideal life insurance policy to invest in SCPI
Why choose SCI over SCPI in life insurance?
Due to declining returns on euro funds, policyholders who want to maintain the correct rate of return in their contract are left with no choice but to charge interest on the units of account available in their life insurance contract.
In multi-support contracts, contributors often have at their disposal hundreds of UCITS (stocks, bonds, diversified) with higher return expectations than euro funds (especially for equity investments). However, they much riskier than euro funds : no guarantee of capital and the possibility of a sharp drop in capital in the event of a fall in stock markets.
What solutions remain for individuals to earn income without taking too much risk? Of course, there are SCPIs (civil real estate investment companies). : these vehicles allow you to benefit from attractive yield physical real estate, recognized solidity (downside risk is low, SCPI stock tends to rise every year). But The subscription fee for this type of product is high (around 10%).. Thus, SCPI are very long-term products. It takes several years of profits and rising prices to recoup the investment.
However, in the short to medium term, there is another solution that will allow you to get good ROI minus costs without excessive risk: SCI (civil real estate companies). Better known as a tool for facilitating the management of real estate between multiple persons (particularly family SCI), SCI can also take the form unit of account within a life insurance contract. It is then managed by a management company that will build assets and capitalize rental income. Investments can take several forms: physical real estate, as well as SCPI, listed real estate companies, or even real estate funds.
Compared to SCPI, Fewer fees charged with SCI : we found many cars take "only" 2% entry fee. Gold, The returns offered for this type of product have been pretty good in recent years, around 4%** (and even 5 or 6%** for the best ones). With such an annual outputEntry fees pay off in less than 6 months. Within one year, the performance outperforms many euro funds, and within 5 years, it has nothing to be ashamed of facing the performance of equity funds.
Our ideal paper stone investment life insurance policy
Summary table comparing SCI and SCPI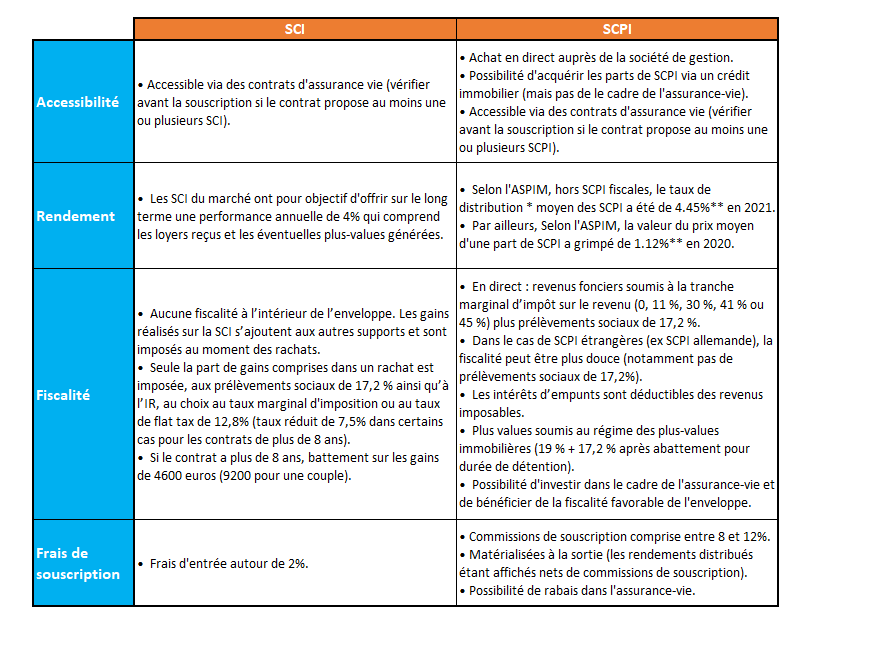 After all, compared to SCI, available only in life insurance, SCPI offer more investment schemes: directly, on credit, in France or abroad, or in life insurance. You then need to choose the structure that best suits your situation: your goal, your investment horizon, your marginal tax rate, and so on.
In particular, the fact that SCPI can be purchased on credit is a very important asset to this investment, which explains why it is so successful compared to other fiat funds.
Compared to SCPI, First of all, SCIs have the advantage of having much lower entry fees. Thus, they correspond to an inexpensive solution for investing in real estate under life insurance. While SCPI will be really profitable in a few years (minimum 5 years), investments in SCI can be envisaged in the short and medium term. With an entry fee of 2%, if SCI achieves its 4%** return target within one year, SCI outperforms the EUR fund from the first year.
SCI, OPCI, SCPI: discover our contact for paper stone investment
Non-contractual communication for promotional purposes
Like any investment, real estate comes with risks:
– Falling value of investments. The invested capital is not guaranteed. The value of SCPI shares fluctuates over time in close relation to the state of the business real estate market. This situation follows successive cycles with ascending and descending phases.
– Decreased rental income. In a less favorable economic context, a drop in rental income paid to partners is associated with a drop in financial occupancy and/or a decrease in the total amount of rent paid by tenants. However, this decline may be mitigated by a risk pooling effect due to the diversification of the company's real estate and leasing portfolio.
– Liquidity. Because SCPI and SCI are not listed on an exchange, they are less liquid than financial assets. Thus, the conditions of sale (terms, price) may vary depending on the evolution of the commercial real estate market and the equity market.
* TDVM: Market Value Distribution Ratio measures the historical level of distribution. It is the gross dividend before tax paid in year N (including exceptional payments and the share of capital gains allocated) divided by the buyer's average share price in year N.
**Past performance is not a reliable indicator of future performance.