Ongoing worries about deteriorating growth prospects, record inflation and the future availability of natural gas weighed on markets, and investors fled to less risky assets.
Europe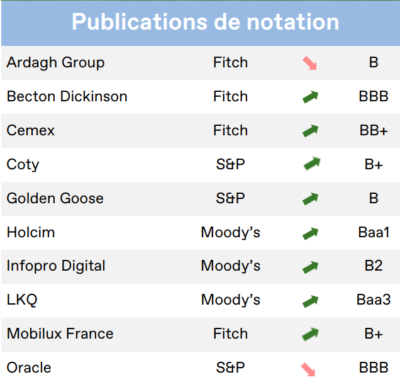 The eurozone is now struggling with high inflation, a weakening economy and a protracted Russian-Ukrainian crisis. The latest data show that economic growth worsened sharply in June. Manufacturing PMIs reported the first contraction in industrial production and new orders in the zone since 2020, reflecting a sharp drop in demand. The economic situation in Europe seems to be more fragile than in the US, in particular, with a growing risk of a complete shutdown of Russian gas supplies.
towards Germany and the membership of Sweden and Finland in NATO, which increases tensions with Russia. The ECB is trying to cope with inflationary pressures, but it must also ensure that sovereign spreads in peripheral countries do not rise to the point of triggering a new crisis in European sovereign bonds. Therefore, its room for maneuver is relatively limited.
Ongoing worries about deteriorating growth prospects, record inflation and the future availability of natural gas weighed on markets, and investors fled to less risky assets. German 10-year bond yields pulled back from a mid-June high of 1.926% to close at 1.33%, up 21 basis points from the previous month. Corporate credit spreads widened significantly, in particular on riskier bond assets such as High Yield. In this context, the return of the European corporate index ended the month with a sharp increase of 189 basis points, to 7.34%.
UNITED STATES
In the US, fears of a slowdown in the economy, mainly due to aggressive monetary tightening, continue to dominate market sentiment. The inevitability of a recession, which will result from the Fed's decision to focus more on inflation risks than on economic growth, is a matter of serious concern. Rising food and fuel prices have begun to weigh on the outlook for American consumers. Their morale has reached its lowest level in decades. The bond markets, like the stock markets, have had a difficult month. Interest rate volatility is a major theme in the bond markets this year and June saw the highest level of volatility. On June 15, the Fed raised rates by 75 basis points. However, 10-year Treasury yields fell about 40 basis points over the next two weeks due to growing recession fears. Finally, it closed the month at 3.01%, up 17 basis points from the end of May.
Corporate bonds underperformed government bonds, in part due to a worsening earnings outlook. High-yield spreads have widened by 150 basis points and lag European spreads by only about 50 basis points. New issuance volumes in the primary market have fallen sharply compared to 2021 and remain low. The fact that companies do not currently have a strong need for borrowing in the market remains a positive thing in these difficult conditions. Many companies have indeed taken advantage of the 2021 opportunity to pre-finance and/or refinance. Liquidity is generally good and interest expenses in terms of interest coverage ratios (ICR) remain low at this stage. The return of the US corporate index closed trading.
month to 8.16%.
Developing markets
In emerging economies, fears of a global recession continue to dominate markets. Fighting inflation also remains a global challenge, with the prospect of higher-than-expected rate hikes. However, manufacturing PMIs improved in China, Colombia, Mexico and Hungary and remained stable in most other emerging markets, in contrast to the US and Europe. Unlike other countries, especially developed ones, China intends to continue monetary easing. The authorities are really keen to counter the economic slowdown and stabilize the real estate sector.
Credit spreads remained under pressure in June in emerging markets. Investors' desire for quality and growing concerns have led to what could be considered a disproportionate widening of high-yield loan spreads. However, key credit metrics remain strong despite the potential effect of inflation on earnings. Emerging markets capital flows were negative during the month at -$4 billion. However, they were debt-friendly (+$6.6bn) vs. -$10.5bn for
stock. The profitability of the emerging corporate index at the end of the month was 12.34%.
Featured companies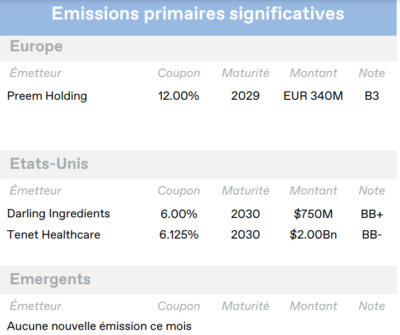 Cheplapharm (EU)
Cheplapharm, a pharmaceutical company specializing in the commercialization of generic or niche branded drugs, reported strong results for 1Q 2022. Reported sales rose 16.4% year-on-year to €289 million, while EBITDA increased 7.4. %, including through acquisitions. Cash flow generation was solid and net leverage was 4.7x. The company was planning an IPO in the first quarter of 2022, but was forced to postpone it due to stock market volatility caused by macroeconomic and political uncertainty. Cheplafarm expected to earn 750 million euros from this operation. The company will continue to consider an IPO on the Frankfurt Stock Exchange, as well as growth opportunities for mergers and acquisitions.
Belden (USA)
Belden, an American manufacturer of signal cables and communications equipment, held a presentation day for investors in June. Over the coming years (2022-2025), Belden's management reaffirmed its goal of improving EBITDA margin by 30% and maintaining a low net debt ratio (maximum 1.5x). In terms of revenue, Belden expects organic growth above GDP over this period, driven by trends such as digitalisation, automation and sustainability. The company also reiterated its earnings guidance for
2022 financial year. Finally, the company has released its first ESG dataset. He detailed his goals to reduce greenhouse gas emissions (Scope 1 and 2) by 25% by 2025 compared to a 2019 base year, and to redistribute 90% by weight of his waste from disposal to production and distribution sites.
Energo-Pro (EM)
Energo-Pro, one of the leading producers and distributors of hydroelectric power in Bulgaria, Georgia and Turkey, recorded record results in the 1st quarter of 2022. In the first three months of the year, the company's turnover was 400 million euros (up 83% year on year) and EBITDA of 60 million euros (+55%). These two indicators were affected by rising energy prices and volume effects. The ratio of total net debt to EBITDA at the end of March reached 3.1x. After refinancing its senior unsecured bonds at 4% for 2022 in January this year, Energo-Pro has no more debt to pay in 2022 and 2023.
Download the Monthly corporate credit update full (pdf, 4 pages, in French)