When we follow the world's stock markets for a bit, we quickly realize that everyone's goal is to determine the strategy that will make them rich or famous. Rich because you will bet on the right horse, the right cryptocurrency, or hear the right information at the right time, but especially EARLY. Famous, because you will make any prediction – if possible, the most incredible one – and you will be right. Once will be enough to become a demigod of finance for the rest of your life. We are currently in a phase where we no longer know what to do or think, but we are still convinced that we will find out tonight.
Audio dated July 8, 2022
Download podcast
Knowledge
Yes, because tonight we will know whether employment is better or worse, and depending on the function, we will draw the necessary conclusions: either inflation is slowing down, or the economy is in the process of collapsing due to higher interest rates. Then it remains to assess the extent of the damage to see if what the Fed is doing:
1) Good, because he wants to curb inflation
2) Bad, because it will lead to a recession in the economy.
Last night, US markets ended their fourth session higher. Clear growth in the growth sector. A sector that everyone is jumping into, believing that if it really goes up, then it is clear that it is the growth sectors that will lead – they have suffered so much lately. Therefore, it remains to be seen whether the NFP data, which will be released tonight, and the CPI numbers, which will be released next week, will allow us to make a decision in the face of our indecision. If the markets ended up quite strong again yesterday, accumulating a 7% rebound on the Nasdaq 100 in five sessions, it's mainly because the "market" has started to trust the Fed's actions… However, it's still quite esoteric as a reflection.
Suddenly we're looking for a long term vision
To sum up what's going on in the world's stock markets and in the tormented psyche of investors, I believe there was a phrase uttered on Wall Street last night that pretty much sums it all up. This proposal is the following:
"Stakeholders are pleased to see that the Fed is still fighting inflation and that, given statements from some Fed members, we can expect a further 75 basis points increase in July, but Fed action should make that possible afterwards. aim for a soft landing and another 50bp rate hike. in September, which should slow down inflation without causing too much damage to the economy. Not to mention that the expectations for the second quarter are so low that we may be in for some pleasant surprises."
Yes. I realize that the sentence in question is quite long, and to be honest, I wrote it myself using snippets of sentences that were said last night. So it's a bit like a DIY from a summary of global finance or an IKEA investment. But what to remember; is that this sudden return of bullishness is mostly due to the fact that we are beginning to think that the Fed did the right thing by being aggressive on rates, but not too much, it allowed inflation to slow down. , without too much growth retardation. We have absolutely no guarantees of such a state of affairs, but so far we believe in it, and this is enough for us.
Raw materials or secondary materials?
If confidence seems strong today, it wasn't always so, because if we look back at the last 7% selloff on the Nasdaq (coincidentally, I say Nasdaq because it's always more impressive, and when it's impressive, it always sells better). So, during the last 7% Nasdaq sell-off, we had exactly the same data as yesterday, just our perception changed. Our perception and the fact that raw materials fall apart one by one.
In normal times, a general drop in commodity prices would have been taken as a massive slowdown in the economy, and in normal times, we might have completely panicked because the recession was knocking on our door and we were still in the shower and not at all dressed to open. door question. Except last week we much preferred to see oil at the bottom of the reservoir, copper in rolling, wheat in a bear market and even ultimately we are happy to see gold which should be "hedged" against inflation – will blow your mind , precisely because it means that inflation is losing ground and that the numbers to be released next week and this afternoon will no doubt push the Fed not to raise rates too much. The work is done. In any case, this is what we believe, what we think right now, at the present moment. Knowing our ability to concentrate and our ability to see beyond the end of a session, we know that it can change as quickly as the weather when you're hiking in the mountains and realize you've forgotten your K-Way.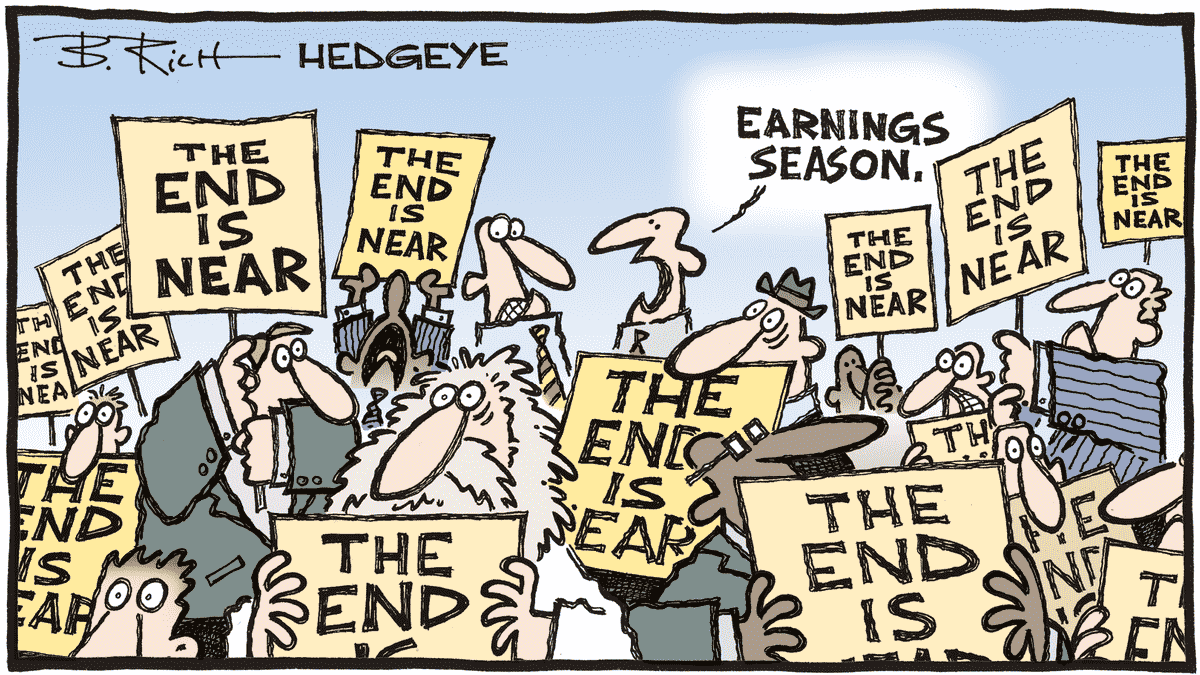 Perception will do the rest
For now, everything seems to be going for the best in the best of all possible worlds. The situation that caused us panic, that MADE us panic a few weeks ago, is no longer the same. It is as if all problems were solved by three rate hikes and all fears were dispelled. All that remains is for the war in Ukraine to end, for Putin to reopen the gas valves, for the Fed to announce that the interest rate hike is over and that it will do everything possible to help the economy recover, as well as the markets. . Especially the markets.
Except that at the moment we really don't know how it will all end. Except that the war in Ukraine is far from over. That Putin hasn't turned on the gas taps yet, that the oil infrastructure is still too old, and that no one wants to reinvest because oil is not ESG, that there aren't enough rare metals on earth to put batteries in anything and everything. And that, first of all, it is still too early to talk about a "soft landing", that at the slightest indication to the contrary we will take it in the teeth and, most importantly, that in the usual investor cycle, it seems that we have never experienced despair and depression. Not to mention that the panic side has clearly not yet been fully exploited… I'm far from going over to the plantigrade side, but it still seems to me that our sudden enthusiasm might still be a little premature. . I wish I was wrong, but if I'm right, it still has to be marked in the corner.
In Asia
Asia is a bit green this morning. 0.6% in Tokyo and 0.10% elsewhere. Futures fell 0.4% and former Japanese Prime Minister Abe just got shot during a speech, and the outlook doesn't look good. Otherwise, the mentality of morning investors in Asia looks much the same as last night in the US: we feel confident in growth and that it will not be a few rate hikes that will slow down such a hefty global economy that has just survived. pandemic. Provided that the "military" thinking of the market continues to work, otherwise we are in for trouble.
Otherwise, oil is $102.88, gold is $1,739 because no one is afraid of inflation anymore, and bitcoin is FINALLY back to $22,000. We expect further targets in the stratosphere in the coming hours. As for the exciting news of the day, we note that Twitter is in the process of reducing its staff, while the "mask takeover" is becoming more and more doubtful, and its team of negotiators still cannot find clear numbers on "fake accounts". Otherwise, during yesterday's session, GameStop took 15% because they announced a split. This is fine. And after the close, the stock fell again by almost 6%, because the chief financial officer was fired along with a group of employees. This is also normal.
But still
We also note, as mentioned above, that commodities have more or less returned to pre-Putin landing levels in Ukraine, and this is encouraging for future inflation. On the other hand, we also note that buying a new car is always just as difficult, since delivery times are closer to gambling than real commercial reality. Not to mention, you never know what you will actually have inside until the car is in your garage. "Sorry, we don't have enough rudders, but we will call you back in three months to deliver. Come on… Have a nice trip!!! ".
And then there's Krugman. Who else is the Nobel Prize in Economics, who believes that fears of galloping inflation are clearly exaggerated and that there is no risk of STAGFLATION. One thing's for sure, he didn't go down the same path as Rubini, because if they ever go out to dinner together, someone's nose will bleed at the end of the meal. Note also the 25% rebound from Bed, Bad, and Beyond. The same Bad and Beyond, which 10 days ago was on the verge of bankruptcy. Reason for the increase? The new CEO of the box bought $250,000 worth of stock in her company. If that's not proof she knows something, then I don't know what is. Moreover, everyone knows that the CEO is always right. Well, except when they're wrong. Let's not forget that we expect Johnson to step down as prime minister as soon as possible. The market should not care, but let's point the thing in the corner.
Numbers of the day
In terms of economic indicators, we will have the French trade balance, the economic forecasts of the European Central Bank and Madame Lagarde to speak. But frankly, the only thing the market will be interested in is US employment numbers. The Department of Labor is expected to announce that 270,000 jobs were added to the economy in June. This would mean a slowdown from the May data of 390,000 new jobs. If the numbers are correct, we can say that the economy is calming down, but continues to grow. On the other hand, we can also say that inflation will calm down. It's too easy for the stock market and the economy.
At the moment, futures are down 0.4% – still – and it remains for me to wish you a very good day, but above all a very good weekend and see you on Monday because I never go on vacation. Or almost.
See you on Monday!
Thomas Veye
invest.ch
"You've got brains in your head. You've got your feet in your boots. You can point yourself in any direction you choose." -Dr. Seuss