A young computer scientist working on a revolutionary encryption program is killed while preparing for a lecture. Commander Sanda, in charge of the case, introduces the reader to the world of finance and cybernetics. A gripping dystopian thriller.

As he was about to make his first speech at a conference on computer encryption at the Palais des Congrès in Nice, Abel was shot dead by a very cautious man who vanished into nature. Abel, who is related to Alain, a former trader turned salesman of trading software to banks, is a computer genius. Together they founded a startup developing innovative software in this very specialized field of homomorphic encryption. The software, which is secretly developed only by Abel, is in great demand among the mafia of the Eastern countries.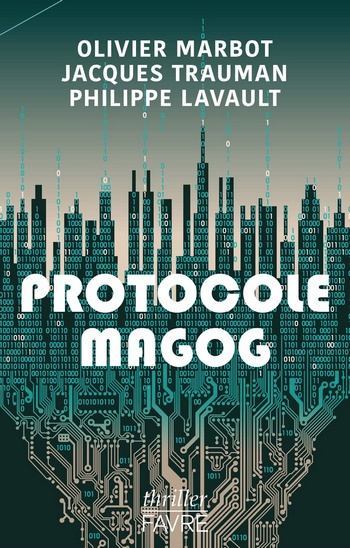 The investigation is entrusted to Commander Sande, but it is quickly abandoned because Alain is also killed in Paris, and in two investigations the name of a Kazakh oligarch appears, whose activities seem not very clear, in particular to the leaders of one of the largest French banks, whom he deceived on a very substantial amount. And since his girlfriend at that time was very cruelly tortured and then brutally killed, the case takes on a national scale, especially since the oligarch in question enjoys the support of the state and intelligence services that support him in his political ambitions aimed at to prevent Russian rule in Kazakhstan.
Commander Sanda does not let go of the case and at the same time conducts his little investigation with the support of one of his former boyfriends, despite the prohibitions of her hierarchy and the various services involved in this dark affair, which mobilizes several government agencies. a big bank, foreign powers and, of course, a very rich and very ambitious mobster. The scores are settled very brutally, we torture shamelessly, but also with the help of cyber attacks that destabilize the whole country.
Three authors have combined their skills and knowledge of the world of big finance, cybernetics used for occult capital management, and underground geopolitics never mentioned in the media to write this dystopian novel that could easily become concrete reality. To be convinced of this, it is enough to try to understand how a conflict like the one that is now raging in Ukraine could arise and intensify, while threatening the whole world. The very best analyzes offered by indescribable cable television experts and even others will not convince us that there are no other interests at stake to provoke such an outpouring of violence. So, let's read this book by these three authors, and we can better understand how other interests can enter into a geopolitical game that has degenerated into a conflict involving more or less great powers.
This book also shows that the universal machine that we have invented to always earn more while working less and less to earn the comfort we enjoy can turn against us, get carried away and destroy everything in its crazy epic, even if it is only virtually. The virtual is perhaps more dangerous than the real, it is less manageable, less predictable…

Denis Billamboz
Protocol Magog
Novel by Philippe Laveau, Jacques Trauman, Olivier Marbeau
Publisher: Favre Editions
312 pages – 21€
Publication date: June 16, 2022