>> Increasing South Korean investment in Vietnamese real estate
>>EU Delegation to Vietnam explores investment opportunities in Binh Duong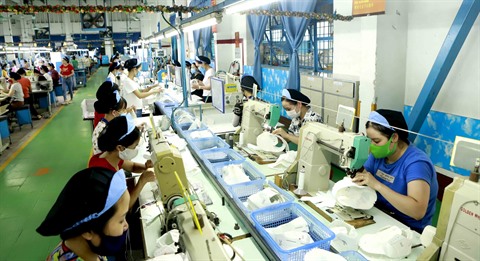 The S&P rating agency predicts Vietnam's GDP growth in 2022 at the level of 6% to 9%.
Photo: VIA / TsVN
Despite the difficult developments in the global economy in the first half of this year, Vietnam's adaptive and resilient economy, with its own advantages, is gradually recovering its growth momentum with very encouraging results. The areas of export, investment and consumption have increased significantly, which greatly increased investor confidence. This shows that the Vietnamese economy is gradually returning to a growth trajectory.
The economy in the first quarter of this year returned to high growth rates, reaching more than 5%. Ratings agency S&P upgraded Vietnam's long-term credit rating from BB to BB+, noting that Vietnam's economy is on a solid path to recovery and projecting Vietnam's GDP growth in 2022 at around 6% at 9% with a long-term trend of 6.5%. up to 7% from 2023.
Along with this, the Vietnamese government has also actively issued many action programs, calling on ministries, agencies, local governments at all levels, sectors and the political system, enterprises and people across the country to unite to promote economic recovery measures, in particular strengthening and autonomy in science and technology. , as well as the ability to innovate, combined with broad and effective international integration.
One of the proposed large-scale solutions is the VND 350 trillion economic support program, which will be deducted by one third, to focus on investment in infrastructure development, aiming to complete major transport routes as soon as possible, such as the North-South Highway to the eastern part of the country. roads connecting the mountainous regions of the North, as well as highways in the southeastern region and the Mekong Delta. These solutions will help eliminate bottlenecks in the transportation of goods, create favorable conditions for investment and development of industrial and commercial activities, as well as release all resources for economic growth.
The government is also encouraging foreign investors and international financial institutions to implement PPP infrastructure development projects, rapidly strengthening policies to attract investment in innovation to create breakthroughs and develop a sustainable high-tech economy. However, investing in the development of infrastructure, traffic and digital infrastructure is not easy and requires the participation of many participants.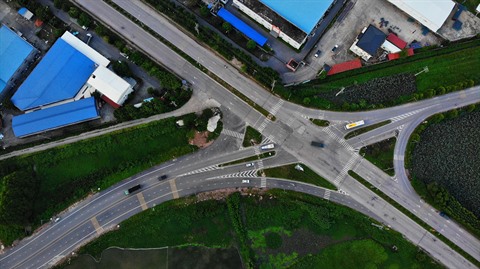 Investing in road and digital infrastructure requires the participation of many actors.
Photo: VIA / TsVN
Helping to jump-start economic recovery and development in the post-COVID-19 era, the Ministry of Planning and Investment, the National Innovation Center (NIC) and the Saigon Telecommunications Technology Joint Stock Company (SAIGONTEL) is one of the pioneer companies in investment and infrastructure development and innovation projects – we will jointly organize a seminar on "Investment Strategy in the Context of the New Normal and Stimulation of Innovation" on June 17 in Ho Chi Minh City.
This forum also provides an opportunity to identify the problems of the economic recovery process and to apply a creative approach to solving these problems in the current period; especially in investment in infrastructure development, transport – an area that plays a key role in terms of the growth of social investment capital and the ripple effect for economic recovery.
The event was attended by heads of central departments, departments and some localities. In particular, KIND (an agency under the Ministry of Land, Infrastructure and Transport of the Republic of Korea, whose role is to support South Korean investors in infrastructure development and in foreign markets) took part in the seminar. In meetings with senior Vietnamese government officials, KIND said it would work with South Korean companies to find and select settlements and promote investment in infrastructure development projects in Vietnam in the form of PPPs.
Vietnam – Republic of Korea, close cooperation
It is also an event dedicated to the 30th anniversarye anniversary of the establishment of diplomatic relations between Vietnam and the Republic of Korea (1992-2022), in line with the general direction between the two countries, to raise the framework of relations to the "Comprehensive Strategic Cooperation Partnership", which the top leaders of both countries have bowed to. Bilateral trade reached $70.38 billion as of the end of November 2021, up 20% from 2020, according to the data.
In 2021, the Republic of Korea became the second largest direct investor in Vietnam with annual investment reaching US$7.4 billion, up 85% from 2020.
The Republic of Korea continues to be Vietnam's second largest development donor with US$1.5 billion for the period 2016-2020. The Vietnamese community in the Republic of Korea (estimated at more than 240,000 people) and the South Korean community in Vietnam (about 200,000 people) continue to overcome difficulties, stabilize their lives and build their resilience in the challenging post-pandemic environment.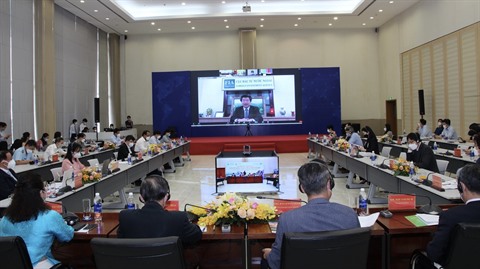 A recent symposium on promoting South Korean investment in the south, held in Binh Duong Province.
Photo: VIA / TsVN
During a recent meeting with the Association of South Koreans of Vietnam, President Nguyen Xuan Phuc said that Vietnam is trying to make a strategic breakthrough in the development of a modern and synchronous socio-economic infrastructure in order to achieve the goals of a developed Vietnam with a modern industry and a high average income by 2030. President Nguyen Xuan Phuc wants South Korean investors to pay attention to investing in these areas.
Initially, the seminar will provide important information regarding the mechanisms and policies of the Vietnamese government to promote investment, economic recovery and development after the COVID-19 pandemic.
Secondly, the leaders of certain localities in key economic regions such as Ho Chi Minh City, Ba Ria Vung Tau, Dong Nai, Long An, Tai Nguyen and Quang Ninh will present their introductory messages on policies to encourage investment in these localities through specific programs and projects. With significant advantages in terms of geographical location, seaports and a developed transport system, they will be attractive areas for investment capital.
Besides being flexible in improving the investment environment, these localities will also be one of the main incentives for investors to increase capital flows in the near future.
The forum will also bring together comments and actions to address investment challenges to overcome difficulties, accelerate research and project implementation, accelerate economic recovery, stimulate innovation, and create new opportunities for sustainable investment, creation and recovery.
Thus, it will contribute to the dissemination and promotion of socio-economic growth, as well as the guarantee of national defense and security, contributing to the successful implementation of the goals of socio-economic development set by XIIIe All-Russian Party Congress.
Suan Lok/CVN
.