What are the prospects for markets from current levels?
Key points
The recent history of the S&P 500 shows that the stock market's peak-to-trough decline is 35% during a recession and 19% outside of a recession.
Cyclical bear markets are less punishing for stocks than structural markets, but more painful than event-driven markets.
We expect a recession in 2023, which is already factored into stock valuations and sentiment indicators. However, the situation could worsen on the front of profits and capital outflows.
Our stock allocation is currently underweighted with options strategies on major indices. We prioritize quality and value equities, the UK and China markets, and the energy and healthcare sectors. We advise against any attempt at market timing.
Equity investors, bruised, try to take cover. The S&P 500 posted its worst first six months of the year since 1970. Most major stock markets have lost between 10% and 25% since the beginning of the year and are still in a downtrend despite some rebound from May lows. and June. Recession fears heightened and then overshadowed fears of high inflation and the ongoing war in Ukraine, prompting a move away from cyclical stocks to defensive stocks and sectors. Investor sentiment has rarely been so negative. What impact could the coming recession have on the markets, and how far could they fall further? In this scenario, which stocks and regions, which sectors and styles should we prefer? And when would be the right time to buy into weakness?
What history teaches us
Recent bear episodes tell us the extent and timing of market pullbacks. The time elapsed between the highest and lowest levels gives us a rough estimate of this. Examining fifteen S&P 500 corrections of more than 15% since 1960, we see that eight of them occurred during a recession and the other seven did not (see Chart 1). In the first category, markets took an average of fourteen months to hit their lows, with an average loss of 35.0% from the peak. In the second case, they took half the time, and the median loss was 19.4%. In this light, the current 17% drop in the S&P 500, stretching for almost seven months, indicates that the market is divided on the possibility of a recession. This suggests that if this happens, the markets could still lose 10% to 15%, and if not, they could bottom out soon. Further analysis shows that a soft landing would correspond to upside potential of around 10% from current levels.
To complicate matters, in the event of a recession, the duration of the stock market decline can be more or less prolonged. It took the markets more than two years to reach their lowest level in 2000 despite a mild recession, and more than a year and a half in 1980 and 1973 when the recession, on the contrary, was noticeable. It took them just over a month in 2020 despite the deep economic downturn. Typically, during a recession, Purchasing Managers' Indices (PMIs), which measure prevailing economic conditions, fall to about 30 points (knowing that anything below 50 points means a recession) and unemployment spikes. Market recovery can be just as pronounced, but as with pullbacks, it takes longer to recover to previous peaks during a recession (average duration of thirteen months) than during a non-recession correction (four months).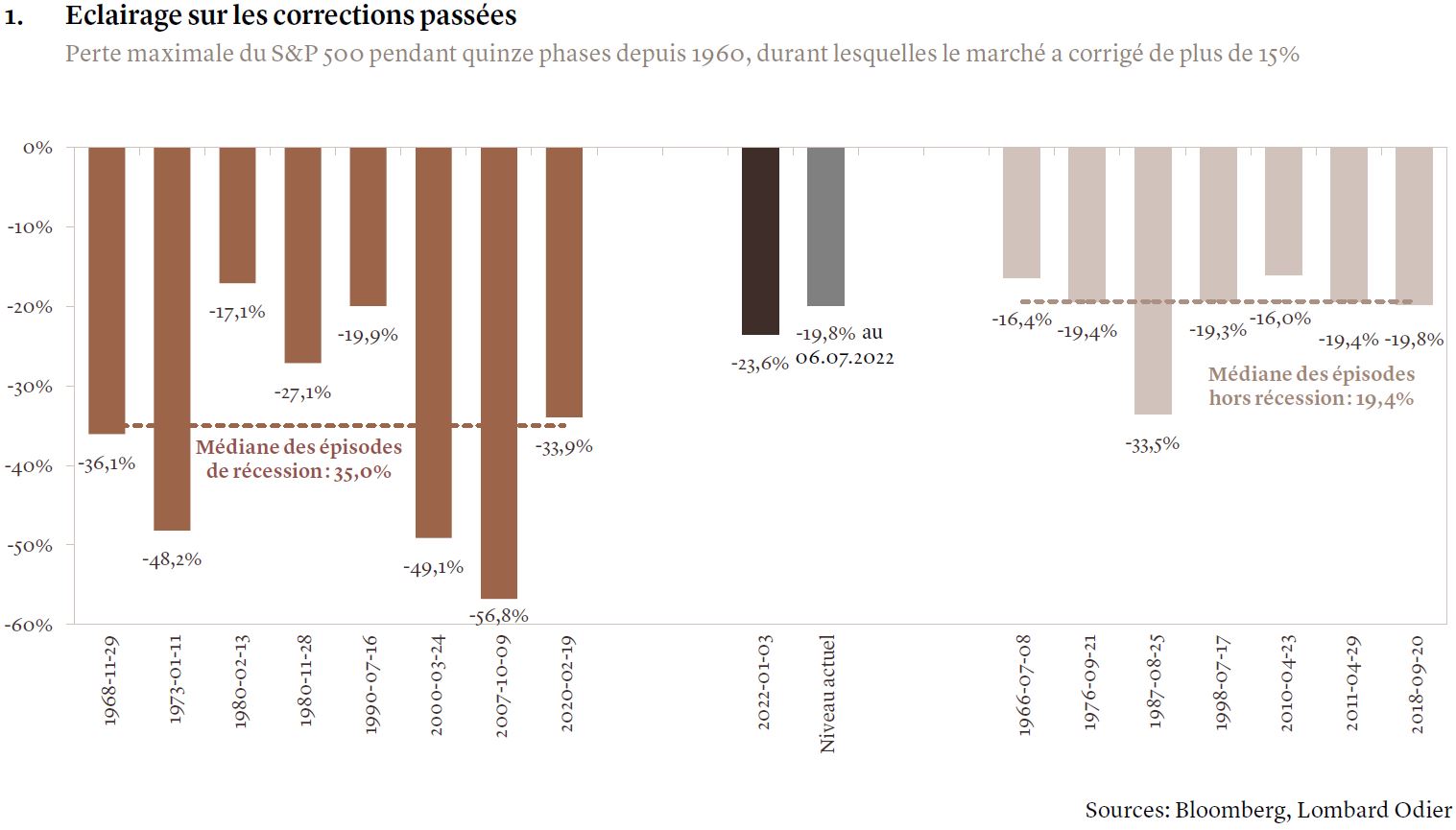 Thus, we can state that one of the determining factors in the amplitude and duration of bearish phases is the presence or absence of a recession. On the other hand, the moment when they occur does not depend on them. Markets move forward, looking ahead: they usually peak about six months before the "official" start of a recession (which can only be known months later, in hindsight) and bottom before the end of the recession.
By analyzing the type of bear market you are dealing with, you can learn more about the ongoing correction. Structural bear markets arise from underlying economic imbalances, such as the credit-fueled housing bubble that burst in 2008 or the explosion in technology and general stocks that collapsed in 2000. Among those we studied, these two examples were the longest. and the most painful. Cyclical bear markets reflect a more classic boom/bust cycle that is usually triggered or interrupted by higher rates. Event-driven downturns follow one-off strong shocks, whether they lead to a recession or not. Take, for example, the COVID-19 pandemic. During a recession, this is usually short but painful. From our perspective, we are currently in a cyclical bear market and there are no major imbalances to correct. The average maximum loss in this configuration is 29.3% with an average duration of 21.6 months.
Where are we in the current cycle?
Does a recession seem imminent and where are we in the current cycle? It seems almost certain that the upcoming US rate hikes in July and September will push rates to levels that could actively curb future growth. As retail sales continue to rise, US consumer confidence is at an all-time low and soaring prices will force more households to spend more on essentials. Our own global economic indicator, which typically leads world GDP by six to eight months, has recently gone from slowing to contracting, indicating the start of a recession in the first quarter of 2023. According to the Financial Times survey, our main scenario, which assumes a moderate recession in 2023, is currently the consensus among economists.
With rising recession expectations and rising interest rates, the decline in equity valuation multiples is already in line with past recession episodes (see Chart 2). And yet, given particularly high starting points, the recent decline has only returned multiples to the average levels that have historically dominated stock market peaks. Under these conditions, it seems unlikely to us that they will rise again before US inflation reaches a decisive peak. Investor confidence also reflects pessimism in line with previous lows. This is clearly demonstrated by Bank of America's latest global fund manager survey. In addition, mega-capitals like Goldman Sachs and Meta Platforms are intent on slowing down hiring and/or firing, which is also a sign of contraction.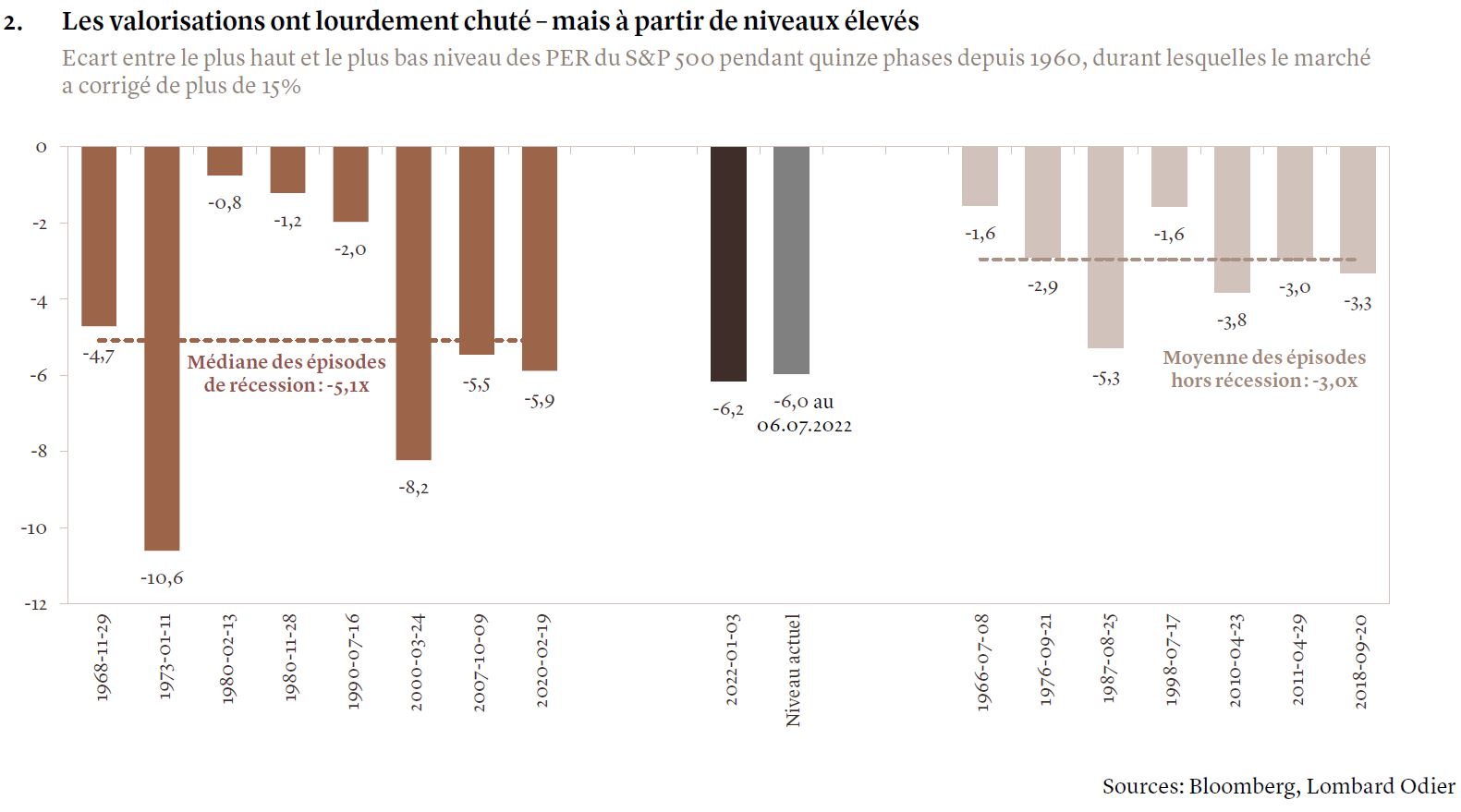 Benefits: Have we noticed the storm yet?
The profits themselves do not yet cause concern. Analysts expect earnings per share (EPS) to average 5.6% in the second quarter, the results of which are in the process of being published. A healthy number, but it has a lot to do with being ahead of energy companies. Earnings continue to be affected by strong GDP growth and high commodity prices. However, as activity slows and prices rise, this situation should worsen. In our view, the consensus earnings-per-share growth estimates, which assume 10% growth in the third and fourth quarters, do not reflect this. In fact, analysts still believe that companies will be able to increase their earnings and margins in 2023. While earnings typically continue to rise during non-recessionary market downturns, earnings per share have declined by an average of 17%. retrospective and prospective measures. Any disappointment in the second quarter results – or, more likely, in the forecasts reported by corporate leaders – will be scrutinized and could lead to further declines in the markets.
At the same time, we don't see signs of investor "capitulation" that usually heralds a market bottom – in other words, a quick and widespread sell-off in stocks and a surge in trading volumes. Capital outflows have certainly accelerated in equity markets, and the sell-off is more pronounced in high-yield loans than in equities. However, the panic movement does not seem inevitable to us.
Stock positioning
In this extremely uncertain environment, and given the potential for upside as well as the sharp decline in the stock market, our equity position is somewhat undervalued if we take into account our option strategies on the US and European indices. These strategies aim to partially protect investors from future losses. Of course, if the news flow improves, a tactical rebound from oversold levels remains possible. However, knowing that pessimism prevails, we will need more attention to the inflation/growth pair before we are more constructive on equities.
Performance spreads are wide, so the micro-opportunities associated with stock selection remain attractive. In terms of style, we favor quality and value stocks that tend to perform best during recessionary market corrections (while quality and growth stocks perform best during non-crisis corrections). We prioritize the energy and healthcare sectors, as well as the UK, US and China.
We also advise investors not to try to predict short-term market movements (market timing) as this strategy can be costly. In the markets, slump days often give way to very positive days, and it's almost impossible to know when to position yourself effectively and systematically. For example, over the past seven decades, investors who missed the top 10 days of the S&P 500 would sacrifice 63% of the results per decade on average (see Chart 3). If we skip both the best and worst sessions, the overall impact will be negligible, even negative if transaction fees are included. Therefore, we recommend a diversified and long-term investment strategy for both stocks and other asset classes.