Web site economic downturn The global economic downturn is already a reality, and many believe that the onset of a terrible recession. But that hasn't happened yet, which is why many investors are wondering which industries to choose for investing in the stock market. Which stocks perform best during this period?
This is a question that many investors ask themselves, and which Schroders experts have answered. "Faced with expectations of a slowdown in global growth, investors should prepare their portfolios"explains Tina Fong, a fund manager strategist, who explains which stock styles performed best during economic downturns or recessions.
So, in terms of style, how should equity investors position their portfolios in a world of slowdown or recession? Recessions occur when economic activity slows, inflation rises, and central banks tighten policy. In other words, what is happening now, and according to expert Schroders, it is proved that "The winners are more defensive equity styles. ».
"Historically, more defensive styles of capital outperformed their more cyclical counterparts."who tends to win in a recession. Fong explains that "during a recession, policymakers often cut interest rates in response to lower growth and inflation" and that "when households and businesses clean up their balance sheets, investors begin to appreciate the recovery in economic activity and corporate income," leading to rotation "towards more cyclical styles of stocks".
During the economic downturn, the winning styles were: strategies with high dividend yield and minimal volatility.. "It appears that investors have sought refuge in stocks that are better able to withstand the challenges of weaker economic growth and accelerating inflation," Fong said.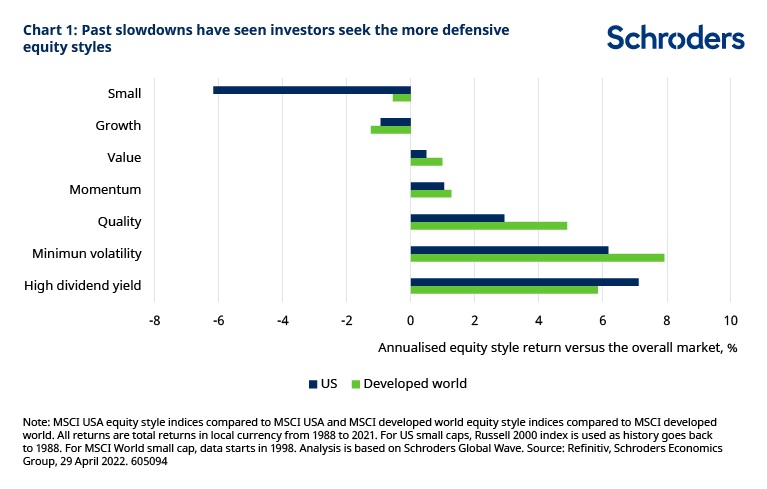 Instead of this, shares of small capitals lag behind. during periods of economic downturns because "these companies have less pricing power than large companies" and therefore "are particularly under pressure on profit margins due to rising costs."
The strategist also notes that value stocks tended to perform slightly better than growth stocks," although he notes that the performance of the two styles "didn't differ much during economic downturns." At least so far, as Fong notes, "value stock returns have been exceptionally strong this time around."
WHAT IS THE REASON FOR THE HIGH COST?
High-yield, low-volatility styles have shown strong returns since the start of the year, consistent with previous downturns, according to strategist Schroders. However, unlike previous slowdowns, "The divergence between growth and value stock performance was striking. ».
In fact, he notes that "the superiority of earnings stocks over growth stocks this year is the third largest since the mid-1970s." According to him, this is due to two factors:
– First of all, she was helped by "extraordinary" … profitability of energy reserves"because they are usually categorized as values.
Second, unlike previous downturns, when bond yields fell, this time Treasury yields rose. " rising yields on US government bonds. influenced market growth areas such as technology sectorwhich are more sensitive to rising borrowing costs," says Fong. As he explains, these companies "generate most of their earnings in the future, so these future cash flows are discounted at a higher interest rate."
In times like today when bond yields are rising, value tends to be "one of the most positively correlated stock styles" with that rise. And he predicts that going forward, assuming recent history repeats itself, "…value will be the most positively correlated stock style."if real returns continue to rise, value stocks may continue to rise. than growth stocks in this environment.
And the expert concludes that if at some point the world goes into recession and bond yields fall, the analysis suggests that "growth stocks and more cyclical styles could start to feel good again."