This Thursday's meeting will be an important communication event to provide more concrete forward guidance on which rates need to be changed.
By Eric Muller, Director of Product and Investment Strategy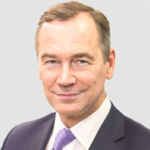 President Lagarde's blog, published on May 23, effectively ended a series of discussions in the Board of Governors about ways to get out of negative interest rates as soon as possible. As a result of this blog, forward interest rates have been raised to estimate a 130 basis point ECB rate hike before the end of this year. Consistency has always been important to President Lagarde. Therefore, we can expect the meeting to officially announce the end of the Asset Purchase Program (APP) in the first days of July. This will remain a few weeks before the meeting on July 21, which should see the first rate hike of 25 basis points. We also expect Chairman Lagarde to make it clear that this first raise will be immediately followed by another at the September meeting.
Philip Lane's latest speech seems to explain that the "gradual" rise in interest rates refers to quarterly increases. However, we believe there is a significant risk of negative inflation surprises in the coming months and that faster growth could be justified. The choice will be to keep the quarterly sequence in 50 basis point increments as an option, or to speed up the movement in 25 basis point increments at the "interim" meetings. In our view, four increases of 25 basis points are expected at the July, September, October and December meetings in response to continued high inflation and a slight decline in medium-term inflation expectations. This phenomenon is visible in the SPF (Survey of Professional Forecasters) and in the SMA (Survey of Monetary Analysts) and is a real source of concern for the ECB. We also expect further rate hikes in 2023, with the DFR (Deposit Credit Rate) expected to reach at least 1.5% in the fourth quarter of next year.
There was no specific explicit mention of what the neutral rate might be and whether it would be necessary to go beyond that neutral rate. Of course, at this stage it is very difficult to say when the tightening should end next year with so much uncertainty, but in our opinion the risk of underestimating the inflationary plateau at a very high level remains, at least for the next two quarters. Anecdotal evidence suggests that, in addition to the well-known supply constraints on goods producing sectors, energy prices and some food prices, there is an unintended effect where even services or producers that are not directly affected raise their prices to take advantage of the general trend.
So far, ECB members have not provided details on how to contain possible financial fragmentation that could result from a rapid tightening of interest rates amid a slowdown in macroeconomic dynamics. President Lagarde referred to past experiences where new tools were created and proved effective when needed. This is unlikely to satisfy markets, which will want to hear more details about what is possible and how such a new facility will be compatible with the reduction in excess liquidity, which begins in June with large early repayments of long-term targeted refinancing (TLTRO). in parallel with the termination of the purchase of net assets. This should catch the attention of markets as peripheral spreads widen and bond yields are up 35 basis points since President Lagarde's May 23 blog post.
The change in the ECB's stance on the need for a quick exit from negative interest rates, and the apparent consensus behind the decision, immediately helped the euro find a floor against the dollar, which should appease the hawks who were clearly (and rightly) worried about the euro's 8% drop on against the dollar from January 2022 to mid-May 2022. The firm tone at the press conference about the determination to bring inflation back close to the medium-term target and the slightly encouraging figures from the eurozone manufacturing sector should strengthen the euro above recent lows in the coming months.
Show disclaimer

---
This material is not intended to be used as a forecast, research or investment advice and does not constitute a recommendation, solicitation or solicitation to buy or sell securities or adopt any investment strategy. The views expressed by Muzinich & Co are current as of June 2022 and are subject to change without notice.
---