If there is one thing that we can recognize in the market, it is that it quickly understands. It just takes a long time to explain to him. One thing is certain; is that since last Friday he understood. It was well understood that inflation had not yet reached its "peak". We are well aware that the recent rate hikes are not yet enough to contain this inflation, and we are well aware that we are still in a risky situation. Threatened by a recession, or worse, threatened by stagflation. The only problem is that if the weekend was rotten due to this 343rd inflation implementation, the start of what is starting promises to be good too.
Audio from June 13, 2022
Download podcast
Not a recession
So yes, it's true, Mrs. Yellen thinks there won't be a recession because the consumer is too strong, too hard. On the other hand, she believes that gasoline prices are not going to fall. But that, despite the oil, which is slowly but surely growing, despite the problems with food prices, which are growing, the finance minister is calm. It is true that so far he has been so accurate in his vision of inflation that there is really no reason to ask questions.
And then we say gas station prices are biting and it's going to last a long time, but if we just look at food prices I'm not sure they're going to get much better. If we take, for example, a box of 12 eggs that cost $1.62 in May 2021, today the same box costs $2.86. And the excuse that you don't eat eggs doesn't work, as they contaminate just about everything. Almost all types of food in every corner of the planet. We even read everywhere that Putin even implemented a plan to starve out the Middle East and Asia. To in extenso provoke demonstrations and immigration in order to destabilize the West.
But before talking about conspiracy and military strategy, let's say that Yellen knows what he is doing and knows what he is saying. Despite the fact that Friday's consumer price figures left big scars on the market.
Once inflation, always inflation
So we're not going to ask too many questions; Since last Thursday, we've been in "OH GOD, OH GOD, THEY UP THE RATES" mode, as well as "OH MY GOD, MY GOD, INFLATION IS OUT OF CONTROL" mode. Don't look too far, the markets only work for this and react only to such news. And to add a layer, the coming week will be no different.
But on Friday we had inflation data. Those who were supposed to show us that "the measures taken by the Fed have paid off." Just really, not really. In May, a new "40-year high" will be recorded for the 12-month inflation rate. Thus, we are at the level of 8.6% against the previous record in March at the level of 8.5%. So be it, that's not 4% higher either, but since economists, analysts, and other visionaries in global finance had much more "reasonable" expectations than that, assuming they all agreed to say things were better, and inflation has decreased (POSSIBLY) has seen its peak. Except that suddenly we're not as convinced as we are now. Not to mention the fact that since the beginning of June, oil has risen in price a little more. That we're breaking record gas prices this weekend, and that doesn't bode well for June's inflation numbers.
So we had to adjust our expectations, revise them and ask ourselves if we were missing something. Also no doubt the market screwed up on Friday because of this and that this morning, this Monday morning is frankly no better, futures are already at the bottom of the reservoir with the 2% drop already shown on the Nasdaq. futures. You have to admit that it makes you want to go back to bed.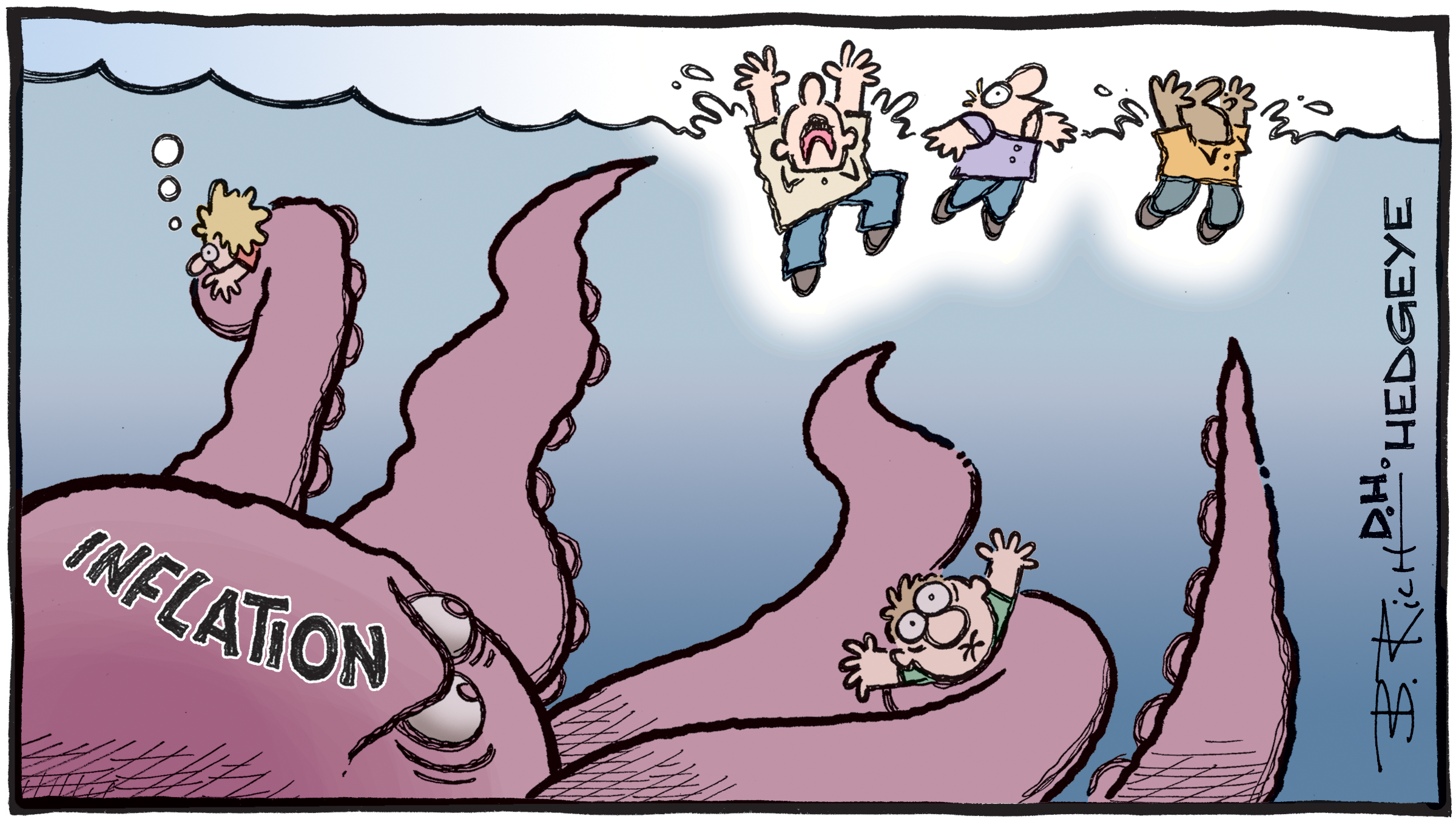 And now what?
But then, what should we think about the future? Besides, is there a future at all in the depressed world of finance with rising interest rates and inflationary pressure?
We will also not overdramatize, we will need to remember that the psychological state in which we are is getting closer and closer to such a state when we find ourselves at the end of correction, when no one believes anymore. there is no more in it, and one by one investors break down, telling themselves that "this time it's all over and that they will NEVER buy shares again." Probably, we are not quite at the bottom of the pit yet, we still have to make efforts, but the psyche is starting to crack…
And then this week we have the Fed. And it might be funny. It's funny, because given what we know and have seen what we hear at the moment, it will not be easy to analyze the response and statements of the American Central Bank. Therefore, we are going to massively and almost exclusively return to the topic of inflation, as the Fed meets on Tuesday and Wednesday. Jerome Powell will announce the rate decision on Wednesday evening. And, frankly, I would not want to be in his place.
The Fed boss will have two options:
1) Raise rates by 0.5% and the market will be afraid that inflation will get completely out of control due to the lack of "aggressiveness" on the part of the Fed.
2) Raise rates by 0.75% and the market will be afraid that the Fed will provoke a recession by being too aggressive.
Yes, because today – if polls are to be believed – nearly a quarter of economists expect a 0.75% rise to break the back of inflation – if that's enough. And since there will still be PPI numbers tomorrow, which should be upstream of the CPI, it won't be strong either, and the quarter could turn into three-quarters. Suffice it to say that Powell will have to deftly react and find the right words. Whether he raises rates by 0.5 or 0.75 – I have a feeling that marketers will be extremely sensitive and very attentive to his words. Simply put, Powell will have a choice between plague and cholera. By the way, this is a bit like the elections in France.
Graphics are scary
So the futures are already in the basement early this morning. The charts are starting to look like something we don't like at all, and if we assume the S&P 500 closes where it is now, that would mean we've entered a bear market on the benchmark US index. We are looking for lows since the end of May. The moment, blessed by the gods of finance, when we decided that a break in rate hikes could take place around September. Except it's been resolved. Given the inflation figures, we will have to cautiously start imagining that we could quickly find ourselves in a recession if the Fed goes off the rails and starts raising rates sharply. Either way, stronger than expected.
So we always come back to the fact that if we assume that a recession is to be "rated" by the market, we will have to start thinking that the market support point will be somewhere between 3,000 points, which represents the extreme downtrends of the last bearish markets and 3400 points, which is more or less a 200-week moving average – an average that is difficult to cross in general, except in the case of a major crisis. It remains to be seen when we will be in a major crisis – or perhaps we are already there.
Asia is no better
At the moment, Asia didn't really like the New York shutdown and didn't like the fact that the inflation numbers show us it's not stopping and the Fed could panic on Wednesday. But Asia also doesn't like the fact that a spike in COVID cases has been detected in Beijing again, that a 214th lockdown seems imminent, and that the growth of the entire country could suffer…again. Therefore, it is a bloodbath in Asia. Japan practically fell by 3%, as did Hong Kong. China, as usual, limits the cliff and loses only 1.1%, but also does not play by the same rules as the rest of the world.
As far as gold is concerned, we are at $1866 and people seem to think that this is a good hedge against inflation, even if it is empty words. The only good news is that oil fell slightly and fell below $120 again, which could be a source of relief for some, given that we felt more comfortable below $120. Although at this price, historically and empirically, we are still in the "Recession Danger Zone". On the other hand, what is at its worst today is Cryptos. Bitcoin finally gave up and is already at the lows of May 13 – the ultimate support should be around 25,400, and there is not much further. Otherwise, Ether costs only $1,300. And then, in the sector's good news, we note that Celsius – one of the largest cryptocurrency lending platforms – has stopped transfers and withdrawals due to "extreme" market conditions. This will definitely help.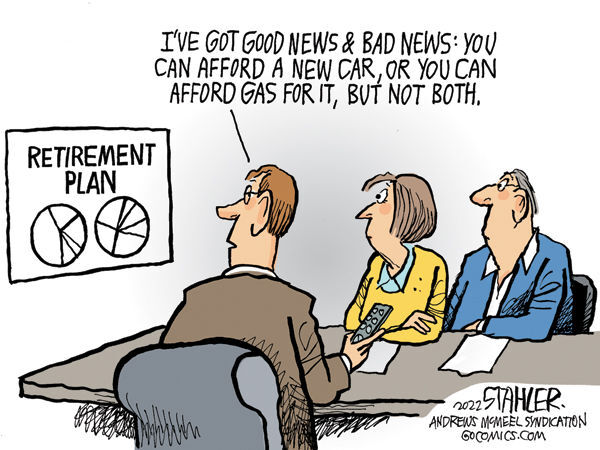 New news
In the news of the day, it must be admitted that there is not much to say. But note that the crisis in Ukraine has made headlines on CNBC, and Zelenskiy is predicting starvation for the entire planet if the war continues and rice could be the next explosion. Meanwhile, everyone is betting on tomorrow's Fed meeting and on PPI numbers. More and more economists are betting on an American recession in 2023, and the French media is only talking about legislative elections, which do not even interest the French to see the level of participation.
On the other hand, perhaps there is something we should start looking at, and that is American real estate. Last week, the number of new mortgages fell to a 22-year low, which means "even lower than during the mortgage crisis" and if we look at rising mortgage rates, we may start to worry about a possible real estate crisis. to revive what we already experience.
In January 2021, the 30-year mortgage rate was 2.65% and the median home price was $400,000. Last week, the 30-year rate was 5.23% with an average price of $570,000. Assuming the buyer pays a down payment of 20%, that means that in 18 months the average rent on the debt has increased from $1,250 to $2,500—more or less. Basically doubled. Not sure if this is a selling point. Shopping will suffer, construction too. The price of timber has dropped and it looks like the perfect storm is brewing as we continue drinking cocktails on the beach. Good. I stop, I get bearish.
Here's what to say about this start of the week. This is not very funny and does not promise anything better in the coming days. Many pushes and many interpretations that will make us turn 360 degrees in all directions. I think we need to stay hydrated, drink plenty of water, and hope the FED communicates gently and sparingly.
In the meantime, I wish you a great Monday and see you tomorrow, at the same time, at the same place. May the force be with you!
Thomas Veye
invest.ch
"Remember that no one can make you feel worse without your consent."
— Eleanor Roosevelt