Shares of vaccine maker BioNTech appear to be rallying in the stock market. For those who think its price will rise again soon, Swiss DOTS is the best place to find suitable leveraged products.
A year ago, it seemed like nothing could stop BioNTech's stock price. Shares listed on the US technology stock exchange NASDAQ are up more than 40% in July 2021. In mid-August 2021, the stock hit an all-time high of almost $458. At the time, the market capitalization of the Mainz-based biotech company was over $100 billion. This incredible surge began with the successful development of a coronavirus vaccine. Just six months after launch, the "BNT162b2" vaccine, which BioNTech is marketing in partnership with US pharmaceutical group Pfizer, has passed the one billion dose milestone.
What seemed to be the beginning of a success story ended in a big disappointment in the stock market. Since the summer of 2021, BioNTech shares have started to plummet. Today, the share price has been almost halved since its historic peak. With the lull on the health front, leading companies fighting the pandemic, such as US vaccine maker Moderna or Swiss pharmaceutical company Lonza, have largely been left out of the market. Still, BioNTech shares are worth looking into this summer of 2022. Many traders have no doubt kept them on their watchlist. They will find in Swiss DOTS the right tools to create value in the short term. In June alone, active OTC issuers launched over 80 leveraged products on BioNTech, but more on that later.
New COVID Vaccine Ready to Launch
At the end of the semester, the long position would have paid off. BioNTech stock rose 17% in a week. News from the company partly explains this renewed interest. To kick things off, Mainz provided an update on the development of a new, customized version of its vaccine to fight Omicron variants. In the Phase 2/3 study, more than 1,200 people over the age of 55 received the fourth dose of the vaccine as a booster dose to test two different active substances.
The monovalent version of the new formulation proved to be significantly more effective against Omicron BA.1 than the current BioNTech/Pfizer vaccine. Same positive results, although less, with the bivalent version. In the lab, BioNTech has already been successful in combating the Omicron BA.4 and BA.5 variants that currently cause the majority of new infections. The results show that suitable mRNA vaccines can be effective here too.
It is this latest discovery that should attract the attention of drug regulatory authorities. It is they who must prepare for the next winter and provide the population with effective vaccines. In the United States, the Food and Drug Administration (FDA) has already started studying this new type of vaccine. Although the US authorities have yet to issue any approval, the BioNTech-Pfizer tandem has already received new orders from Washington totaling 105 million doses. "This may include an adult COVID-19 vaccine developed specifically for Omicron," BioNTech explains in a press release. However, this will require FDA clearance.
Capacity Building Research
Although this vaccine is now the foundation of its success, the company's news is not limited to its continuous development. On June 29, the company, led by CEO and co-founder Ugur Sahin, also launched the "Innovation Series". This is a new format to show analysts the firm's future products that are still under development and to provide more detail on the research department, which now has more than 1,000 employees. The 157-page presentation clearly demonstrates the enormous potential of this young company. Currently, there are at least 21 clinical studies of active substances developed by BioNTech, and 17 candidate products are in clinical development. In addition, the company recently entered into research into antibiotics. Thus, during the virtual meeting, BioNTech announced its intention to use mRNA technology to fight antibiotic-resistant bacteria. Clinical trials should begin next year.
Comfortable cash flow
To achieve their ambitions, management can count on a well-filled treasury. At the end of the first quarter of 2022, its liquidity was over 6 billion euros. This comfortable mattress was created largely from profits generated since the start of the first coronavirus vaccination campaign. Approximately 3.4 billion doses have been delivered to date (see picture). In the first three months of this year alone, the results reached almost 3.7 billion euros. BioNTech certainly has little chance of staying at this level. For 2022, its CEO predicts a turnover of 13 to 17 billion euros. In the previous financial year, this figure reached almost 19 billion. On August 8, investors will be able to find out if the company is on track to achieve its goals. It is on this day that Ugur Sahin will present figures for the second quarter.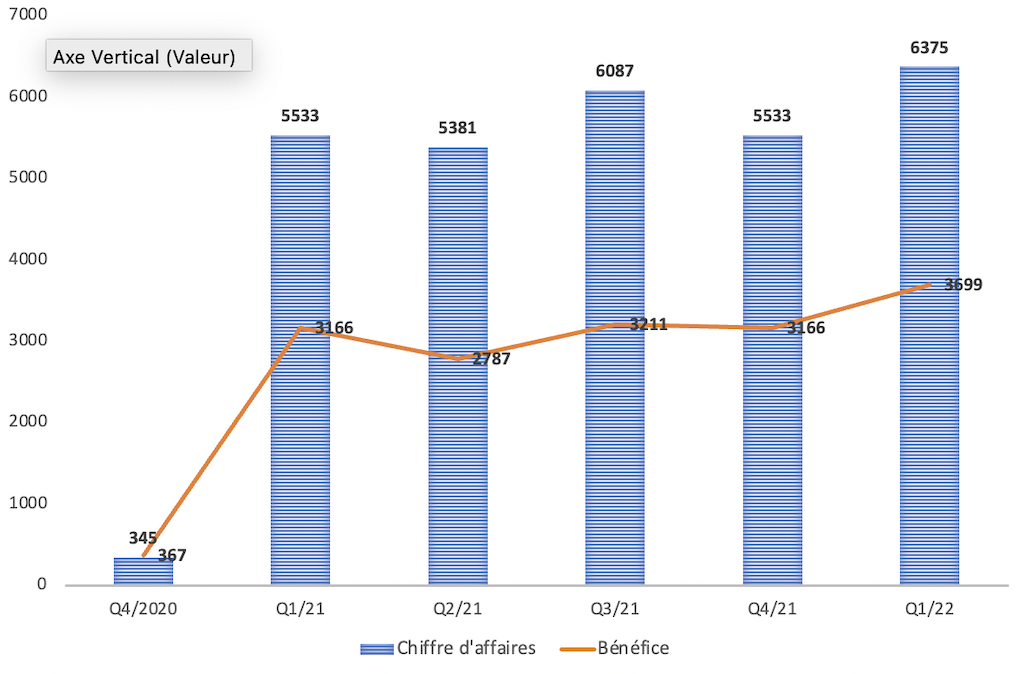 A wise investment
While the weakening of corporate momentum was predicted long ago, it may have been the main reason for BioNTech's stock correction. Added to this were more general doubts about the need for new COVID-19 vaccination campaigns. The recent surge in cases in many countries and new vaccine orders in the United States show that these campaigns are needed. Therefore, a temporary increase in stocks is not surprising. If BioNTech's price has managed to break the 100-day average, the broader trend is still waiting. To get out of this situation, the title will have to overcome the ceiling of $180. On the other hand, the $120 area seems to be holding up well: the W-shaped stock price has already experienced two bottoms there ("double bottom").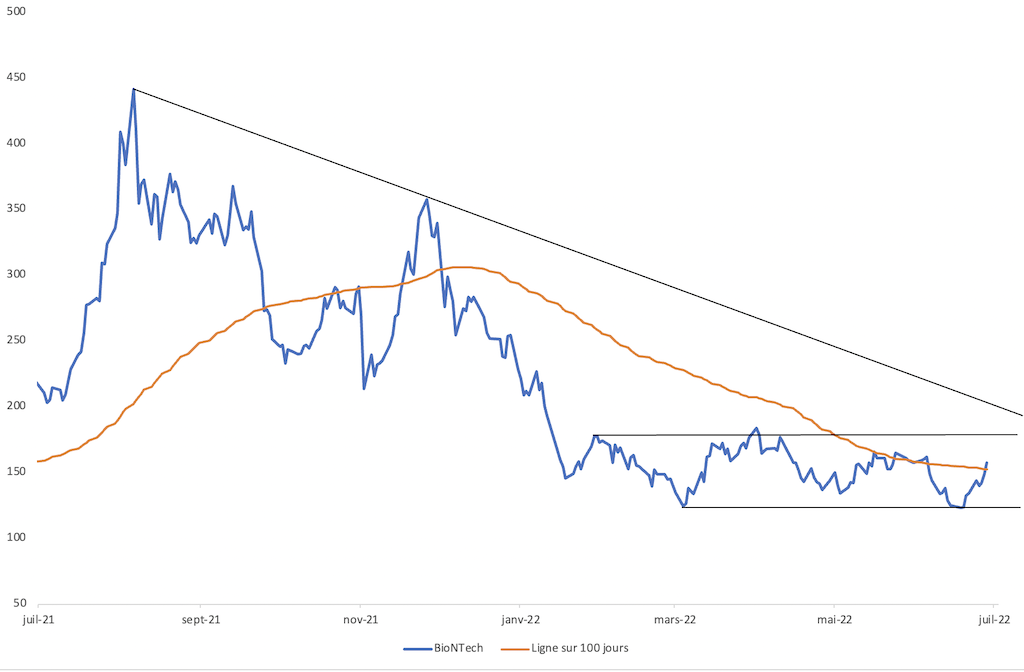 Solid quarterly results, a positive outlook or new scientific breakthroughs are all factors that could support the stock's recent upward momentum. Investors looking to bet on a recovery might be interested in a mini-long future (value 119729376). This Vontobel promotion, which currently offers a leverage of around 3.4, is one of the newcomers to Swiss DOTS that we mentioned earlier. For its part, UBS has launched a slightly more aggressive OTC mini-long futures (value 1 19249949) with 5.1 leverage.
Lower price BioNTech advocates will also find their happiness in Swiss DOTS. For example, with a new mini sell futures (value 119729371) that offers a leverage effect of just over 9. The equivalent UBS security (value 119410544) has a leverage of 5.5. The rule is the same for all mini-futures: as soon as the underlying asset does not move in the expected direction, disproportionate losses can accumulate. If BioNTech reaches or exceeds the stop loss, the product will expire and investors will have to settle for a low residual value.
About swiss outlets
Swiss dots is the first Swiss OTC trading platform for leveraged products. Aixtron is just one of over 90,000 investment ideas that you can trade every day from 8:00 am to 10:00 pm at a bargain price of CHF 9 per transaction.